Police Officer Helps Homeless Man Shave in Parking Lot Before Job Interview, Man Gets Job Offer
After a Florida police officer helped a homeless man shave and clean himself in a parking lot ahead of a job interview on the weekend, the man was offered the job.
Tallahassee police officer Tony Carlson noticed a man having trouble with his razor outside of a gas station on Sunday and went over to help. "When I met him in the parking lot, he was having problems with his razor and asked me if I can help. I didn't know if there was anything I could do, but I came over to see if I can fix it so he could shave," Carlson told Newsweek.
The man—who was only identified by his first name Phil—told Carlson he needed to shave for a job interview at a local fast food restaurant. The officer then noticed that Phil was attempting to shave without a mirror and stepped in to help the man in need.
"He was trying to shave and get cleaned up for a possible job at the McDonald's next door. And the thing that caught me with Phil was that he was so excited that he may be getting a job if he just did this one simple thing. That's why I was so willing to help him out in any way that I could."
Witness Greg Wallenfelsz—who just happened to be at the gas station—pulled out his phone when he saw the two men shaving and filmed the moment before uploading it to social media later. "I thought it would be nice to share with others this selfless act of kindness this officer showed this stranger," he told CNN.
Kelly Duvall, another patron, also shared a photo of the incident taken by her daughter with the police department and to social media. "One officer's simple act of kindness is touching so many lives, it is amazing," she told CNN.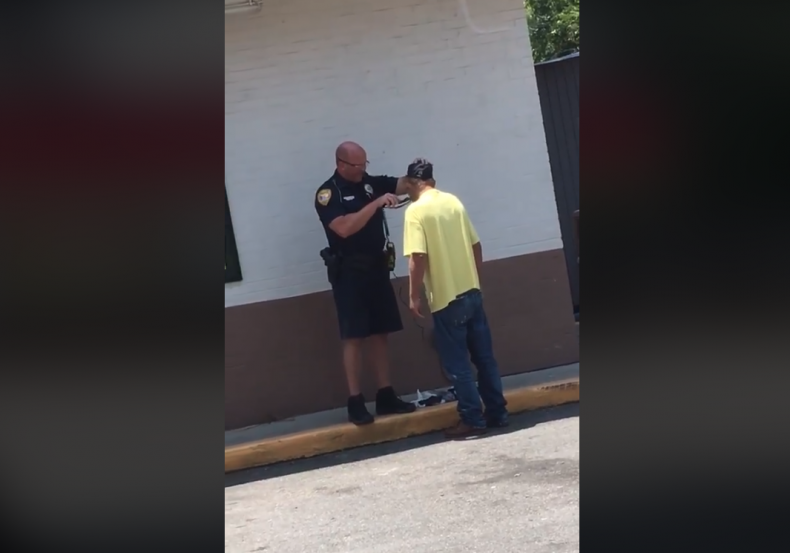 Greg Tish—a radio personality who hosts The Greg Tish Show on Real Talk 93.3—spoke to Phil on Sunday evening to chat about the job interview and Carlson's act of kindness.
"The lady told me if I can show up Monday clean with my beard cut off, they'll promise me a job," Phil said, in a video posted to Facebook. "I was out here trying to shave, but I can't see 'cause I don't have a mirror, so the Tallahassee Police Department shaved me up the rest of the way."
Despite receiving an enormous amount of praise from users on social media, Carlson said his actions were just him doing his job. "This isn't… something spectacular," Carlson said in a video the City of Tallahassee Police Department posted to social media on Monday. "It happens all the time. It just so happens that this time someone caught it on film."
"I left that scene, I went to another call…I was actually sitting doing some paperwork, reading some emails and my wife called me and said, 'Hey what are you doing?' and I'm like, 'Nothing, what are you doing?' and she was like 'did you shave some guy today?' That's when she told me she saw it on Facebook and it all went from there."
In a statement to Newsweek, Tallahassee Police Department's Chief Michael DeLeo said that "officer Carlson's actions embodied TPD's philosophy of community oriented policing through his recent act of kindness. We are proud of Officer Carlson demonstrating what our officers and officers across the nation do on a daily basis by helping others."