Meet The Cop Who Wants to Fix LGBT-Police Relations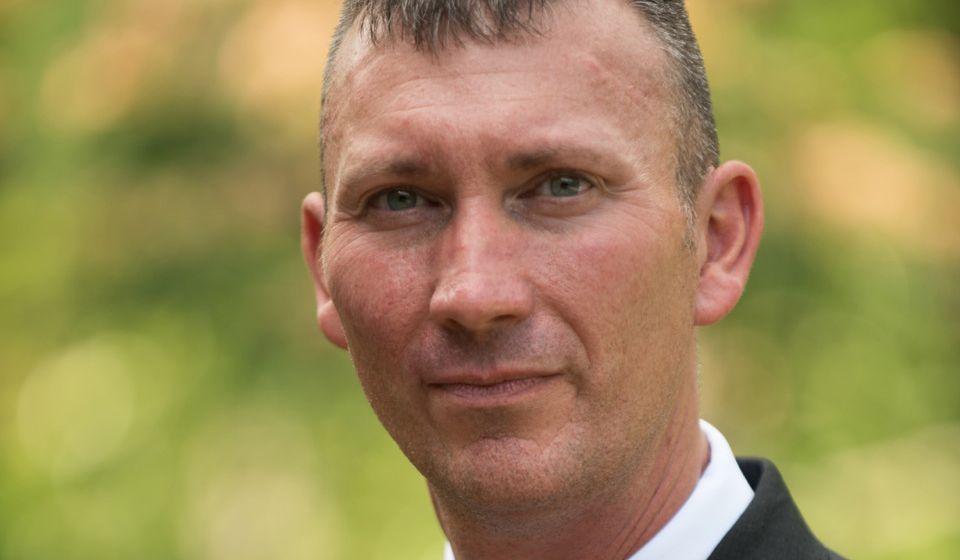 A recent study on LGBT youth who trade sex for shelter in New York City included startling data about their relationship with police: 71 percent of those surveyed reported run-ins with officers that in many cases featured some aspect of the controversial stop, question and frisk tactic.
The Urban Institute study also said that of the 283 lesbian, gay, bisexual, trans, queer and questioning youth interviewed, 70 percent said they "had been arrested at least once." Often, these arrests were on allegations of "quality-of-life" crimes such as jumping subway turnstiles. For many youth, things got far worse upon arrest: 49 percent said they felt "unsafe" in the patrol car, and 46 percent said they felt the same way in a precinct.
Concerns about the treatment of LGBTQ individuals come amid a national discussion of police-community relations, which largely focused on cops and communities of color. In a bid to understand how sexual orientation and gender identity fit into the discussion of justice reform, Newsweek chatted with Brian Sharp, a veteran law enforcement officer whose consulting work with Brian Sharp and Associates focuses on training police about LGBT- and hate crime-focused issues. Sharp, who describes himself as an "out gay man," served as the Atlanta Police Department's LGBT liaison for nearly five years. (He was not speaking on behalf of the department.) Before joining the APD, Sharp worked as a corrections officer.
When Sharp was appointed LGBT liaison, he says he examined the department's policies on sexual orientation and gender identity and found "little to no training on LGBT diversity." He says he started researching other departments' policies and came up with little useful information.
"Nobody had any type of formal training, so I started developing that, and through doing that training for our department, it started getting a little traction locally, and I started getting calls for other people around the country," he says. Overall, though, he says such training is still lacking in most areas: "We have roughly 18- to 19,000 police departments around the United States and very few, if any, offer LGBT-specific diversity and hate crimes training."
Sharp's program begins with a lesson that attempts to give officers an understanding of why many in the LGBT community, even young individuals, have a negative attitude toward the police.
"I start with the history of the Stonewall Riots in the 1960s. I explain to them the culture from the '60s and how police officers and agencies were targeting LGBT businesses and people, simply because they didn't want them in their town and wanted to push them out," he says of the protests against New York Police Department's raid on the Stonewall Inn on June 28, 1969. The six days of demonstrations that followed are largely credited with sparking the LGBT rights movement. "That history with police goes far, far beyond the people the officers were dealing with."
Sharp says his training pays a lot of attention to a basic principle: LGBT people are just like other people with whom police interact, and their sexuality or gender identity does not mean they should be subject to suspicion.
"When officers are out on their own patrol and they're dealing with folks, and they come into contact with a group of trans women walking down the street at 2 or 3 o'clock in the morning, they may assume that those people are sex workers, and they use that as probable cause to stop and detain, and maybe ultimately to arrest them," Sharp says of cops who haven't gone through LGBT training. "One of the things that's covered in the training is that trans people are just like we are: Although some people may be involved in criminal activity, the mere fact of their gender identity does not make them a criminal in itself."
A lot of the training involves learning vocabulary, he says, so as to address possible confusion.
"We talk about what gay means, we talk about what lesbian means, we talk about identity, we talk about transgender individuals," he says. "We spend a lot of time talking about trans people—what gender identity is, and what that means to people."
He continues: "I try to convey to folks, specifically police officers: it's not about you, it's about the person you're dealing with."
Traffic stops are among the many instances where this training is key. If there's a traffic stop, and the driver presents gender a certain way but the license doesn't match this gender, the officer must know how to treat the driver with respect.
"If a person is presenting as a female, you address them as 'ma'am' or 'miss,'" he explains. "I think that's one of the most confusing things a police officer deals with—when somebody is trans and going through transition and wherever they're at in the transition, a police officer has to meet them there."
While approximately 70 percent of the students he has taught raise their hands in class when asked if they know someone LGBT, Sharp recognizes that some officers harbor negative stereotypes against the community. But of course, he says, many LGBT persons also have their own preconceived notions about police officers.
"The misconception and the stereotypes can run both ways. Sometimes, the LGBT community has preconceptions that, 'All law enforcement is bad and will stereotype us because of our sexual orientation and gender identity,'" he explains. "I would say in training police officers, in most cases, it is the exception to the rule."
When police officers don't know about LGBT persons, however, there exists the potential for negative interactions.
"It's not something that most police officers, or people in general who identify as straight, sit around and talk about at the dinner table," Sharp says. "If they don't have these trainings, all they have to fall back on are preconceived notions—sometimes, even fear."
One way law enforcement can improve police-LGBT relationships is to approach it the way departments are increasingly doing in attempting to improve relations with communities of color. That is, police officers must make a concerted effort to communicate with LGBT individuals other than when something bad has happened, he says, such as a crime or an arrest.