Police Officer Jailed for Beating Black Man So Badly He Lost His Eye
A Canadian police officer has been jailed for nine months for an assault conviction after beating a Black teenager so badly during an arrest that he lost an eye.
White constable Michael Theriault, who was off duty at the time, and his brother Christian chased Dafonte Miller, then 19, in the early hours of the morning on December 28, 2016, cornering him between two homes in Whitby, Ontario, Toronto. Prosecutors said the pair then beat Miller with a meter-long pipe that caused his left eye to burst.
The brothers claimed they had acted in self-defense, claiming Miller had a weapon. They previously told a court they had initially approached him and his friends after hearing someone breaking into a truck while they were in their garage.
The Theriaults pleaded not guilty to aggravated assault and obstruction of justice in relation to the incident and its aftermath. The officer was convicted while his brother was acquitted by a judge in June.
Superior court justice Joseph Di Luca, delivering his sentence in Toronto Thursday, said: "The racialized context in which the offense took place cannot be ignored."
He said he also considered the officer's high chance of rehabilitation and the conditions he will face in jail. Theriault was also sentenced to 12 months of probation following his jail term, along with a five-year weapons prohibition. "Mr. Theriault's career as a police officer is likely over," the judge said.
Prosecutors had sought a jail term of 12 to 15 months and several other restrictions for Theriault. Defense lawyers asked for an absolute discharge or suspended sentence. On a conference call with reporters Miller's lawyer, Julian Falconer, called Di Luca's reasons for sentencing "nothing short of historic," CBC News reports. Falconer said Miller was grateful to be heard by the justice system, "Dafonte feels like he had a voice," the lawyer said.
In a statement read to the court in September, Miller outlined the lasting impact the incident has had on his life. He said the encounter had permanently altered his view of police. "No one questioned him. Only I was worthy of suspicion ... Because of the color of my skin," Miller's statement read.
Dr. Adam Elliott-Cooper, a researcher at the University of Greenwich in the U.K., and part of the anti-racist organization The Monitoring Group tells Newsweek that punishing individual officers won't solve the problems of institutional racism.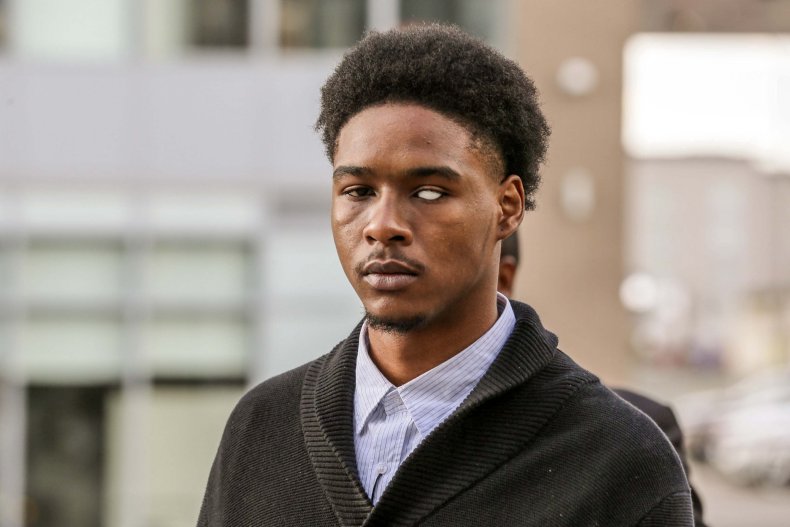 He says: "Police racism and violence isn't due to bad apples that need to be locked away, and the problem won't disappear by punishing individual officers. While accountability for racial violence is welcomed, there is very little evidence that incarcerating police officers will reduce police violence, any more than incarcerating people generally has led to a safer, less harmful society."
When George Floyd died on May 25 this year at the hands of Minneapolis police officers, it sparked protests in every state in the U.S. that quickly spread to cities around the world. Soon millions of anti-racism campaigners were marching for the Black Lives Matter (BLM) movement on the streets of London, Sydney, Cape Town, Tel Aviv, Paris, Buenos Aires, Berlin, and Auckland.
For years, community groups in the U.S. and Canada have advocated a movement to "defund the police" - taking money from forces and reinvesting it in public services. It became a rallying cry at this year's BLM protests. The basic principle is that government budgets should prioritize housing, employment, community health, education, and other vital programs, instead of police officers. Activists say it is the best way forward since attempts to reform police practices have failed, as evidenced by the killing of Floyd.
Elliott-Cooper says: "Movements to defund policing highlight the need to reduce the contact people have with police - this is the best way to avoid and reduce police racism and violence. Better jobs, housing, healthcare, education, and community-led social services can reduce our reliance on policing by reducing the likelihood that people will come into contact with the criminal justice system."
Officer Derek Chauvin has been charged with second-degree murder and manslaughter in the case of George Floyd. His fellow officers J. Alexander Kueng, Thomas Lane, and Tou Thao are charged with aiding and abetting. All four will be tried together, a judge ruled this week.