A police officer in Fall River, Massachusetts, has been reassigned to a position that has "no contact" with the public, after sharing a controversial post on social media in support of Derek Chauvin, the former Minneapolis police officer convicted on three counts of murdering George Floyd.
The announcement comes after the Fall River Police Department said the officer "inadvertently" posted a statement to the department's Facebook account on Tuesday that appeared to show support for Chauvin and criticize Floyd.
According to The Herald News, that post was screenshot of a Tweet that read: "Chauvin immediately stood and calmly placed his hands behind his back. Imagine where we'd be if George had done the same."
The post was shared to the department's Facebook page on Tuesday after Chauvin was found guilty on all three charges of murdering Floyd in Minneapolis last May. By Wednesday, the Fall River Police Department had deleted the post and issued an apology, stating that the person who shared it had meant to instead post it to their personal account.
"The posting in no way represents the opinion of the Chief of Police or the Fall River Police Department," the apology said.
In a new announcement on Thursday, Police Chief Jeffrey Cardoza did not disclose the officer's name, but said that person has now been reassigned.
"The officer involved has been transferred to an assignment that has no contact with the public. There is going to be an independent investigator from outside the agency assigned to this case."
"I am personally disappointed these attitudes exist. Through training, we have been and will continue to ensure our staff practices fair and impartial policing. We will thoroughly investigate and address this incident, up to and including disciplinary action. Members of the Fall River Police Department will continue to work hard in service to all citizens of Fall River, and strive to build relationships based on mutual trust and respect."
On Tuesday, Chauvin was convicted second-degree unintentional murder, third-degree murder, and second-degree manslaughter. The verdict came after video footage last May showed Chauvin, a white officer, forcibly kneeling on Floyd's neck, who is Black, for more than nine minutes while he repeatedly stated that he could not breathe.
Sentencing is expected to occur in eight weeks, with Chauvin facing a maximum sentence of 75 years in prison. However, most experts expect him to be sentenced to a maximum of 40 years.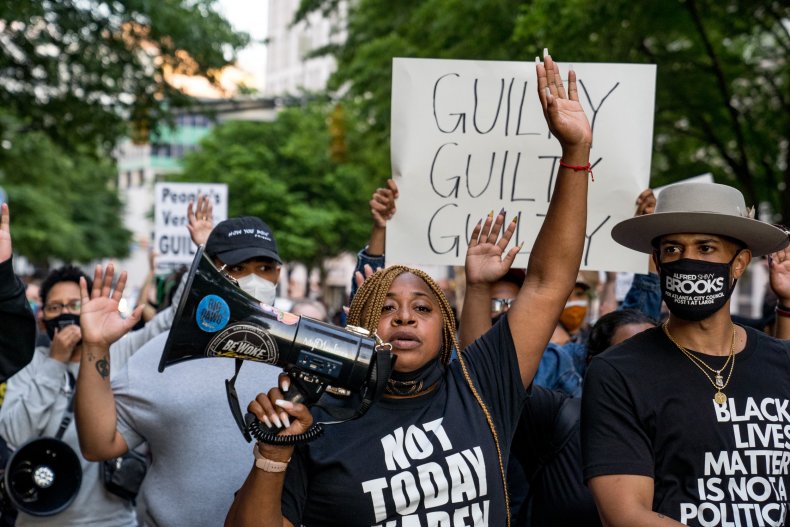 Floyd's murder sparked widespread nationwide protests movements against police brutality and systemic racism last summer. According to data from research group Mapping Police Violence, 181 Black people in the U.S. have been killed by the police since last Floyd's death last May.
Though Chauvin's conviction was seen by some as a moment of "catharsis and relief," other activists have said that "real justice" can only be served when there is a major change to policing in the U.S.
"Real justice in this case is a fundamental change of the system that we see through the transfer of funds away from the Minneapolis Police Department into the communities that we serve," D. A. Bullock, an organizer with Reclaim the Block, told Newsweek on Tuesday.
"Because, although we support the family and their pursuit of justice, we know that ultimately what true justice looks like is another George Floyd not happening again next summer, or the summer after that."
Newsweek contacted the Fall River Police Department for additional comment, but did not hear back in time for publication.