'You Guys are Brutes!': Police Officer Fired for Beating Handcuffed Woman
A Vermont police officer with a history of lying has been fired after he punched a woman in a holding cell while she was handcuffed behind her back.
Sergeant Jason Lawton, of the St. Albans Police Department, was recording hitting 35-year-old Amy Connelly while she was being detained in March.
Connelly was arrested after allegedly ripping off a man's shirt while drunk at a bar in St. Albans then refusing to leave when police arrived. She was then taken into custody on suspicion of disorderly conduct and unlawful mischief.
Surveillance footage, obtained by Seven Days, shows Connelly repeatedly kicking the door of the holding cell she was being kept in whilst crying.
Footage from Lawton's body cam then shows the officer opening the door and warn Connelly to stop kicking the door.
Connelly stands up and steps towards Lawton. He tells her to sit down, to which she replies "no." The officer then pushes Connelly hard against the holding cell wall, telling her "don't come at me like that."
Connelly appears to kick out at the officer, who proceeds to punches her in the face before dragging her out of the cell while two other officers pin her to the ground.
"That was real stupid, real stupid, OK?" Lawton says while Connelly is on the ground.
"You understand me?" he said. "So here's what we're going to do. Now you're going to get an assault charge and now you're going to go to jail."
While continued to be pinned to the ground, Connelly cries out: "Oh my God, you guys...You guys are brutes."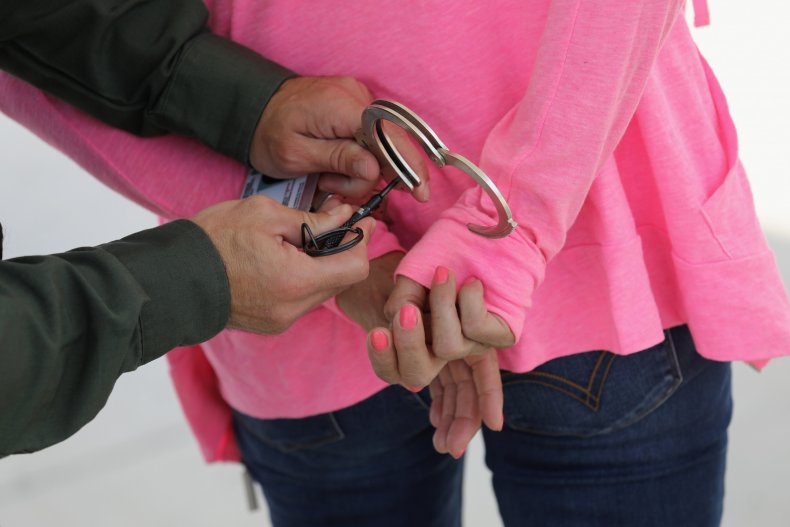 She also repeatedly yells out "You guys are animals" while officers pull her off the ground and put her back in the cell.
"Why would you do this? You guys have abused me," she adds.
In court paperwork, seen by WCAX, Lawton claimed he struck Connelly in order to gain control of the situation and end the aggressive behavior she showed towards him.
The Vermont chapter of the American Civil Liberties Union (ACLU) disagree with the officer's version of events after witnessing the video.
"He is a bully to a young woman who is distraught, who has handcuffs behind her back, in a three by three holding cell and it's beyond the pale," said Jay Diaz of the ACLU of Vermont.
"He is clearly an officer who should not have been a police officer because of how he behaves," Diaz added. "It's readily apparent."
St. Albans Police Chief Gary Taylor confirmed that Lawton has since been fired from the force.
"I think that his actions in this case are a poor reflection of the values of the people who make up this organization," Taylor told Seven Days.
Warning: Video contains strong language and distressing scenes.
Albert Fox, an attorney at Chadwick & Spensley, is also attempting to have the assault charges against Connelly dropped, arguing Lawton's actions amount to an "absolute miscarriage of justice and a shameful abandonment of the duty police officers owe the public."
Fox also highlighted a previous incident involving the officer in court filings. In 2013, Lawton was found to have lied under oath that a driver he had pulled over had ran a red light whilst he was working for the Shelburne Police Department.
Lawton's dashboard camera from the night in question on December 2012 proved that the driver, Rod MacIver, never ran a light. MacIver later sued the department and the case was settled for an undisclosed amount.
Lawton went on to join the St. Albans force in September 2014 after his perjury made national news.
"We did make a decision to hire him. I own that," Chief Taylor added to WCAX.
"I've been doing this for 44 years. I don't approve of anything like that. Nobody gets to engage in behavior that's abusive," Taylor said.
"I don't want people to think that behavior reflects the values of this organization. It does not."