Were it not for the heroic actions of two police officers, a monitor lizard that wandered into the middle of a busy road in Singapore over the weekend would've become roadkill. With any luck, he or she is now hunting happily by the shores of nearby Kallang Basin.
On Sunday, several people filming a video for the educational site Just Keep Thinking spotted the lizard and alerted a pair of nearby police officers to its plight, according to Asia One.
"[We] tried to alert drivers to make sure they avoid the lizard. We also hoped the lizard will go away by itself, but it didn't," one of the people present told Must Share News.
The officers went to the reptile's aid right away, but, as a video of the incident shows, they had their work cut out for them.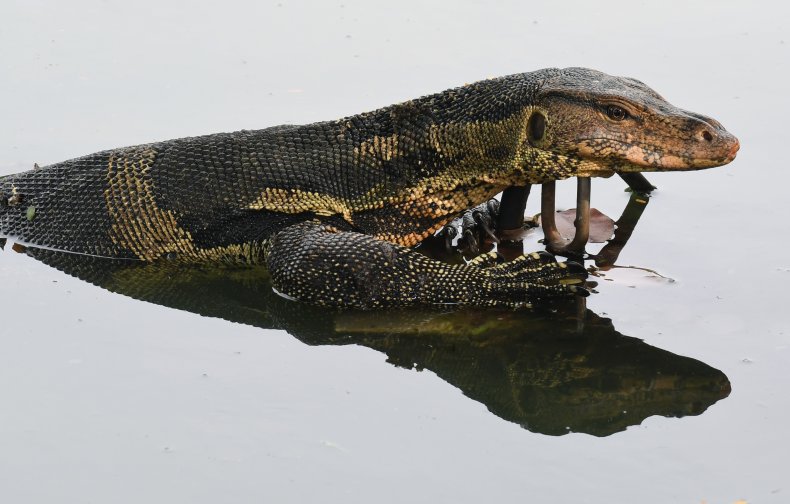 In the footage, which was originally posted by Just Keep Thinking, the first officer kneels next to the lizard, looking for all the world like an exasperated father trying to reason with a belligerent toddler.
He takes hold of the lizard's tail but releases it when the three-foot-long animal begins to charge at him. Taking a different tactic, he points toward the basin, but the lizard does not seem to register the suggestion.
The onlookers laugh in the background.
"Well, I guess the monitor is just chilling," offers one.
Eventually, the officer succeeds in driving the lizard off the road and onto a patch of grass. With the onlookers filming him from behind, he then picks the lizard up as though it were a cat or a lapdog, carries it over to the basin and sets it down on the banks. He begins walking back in the direction he came from as the second officer waves farewell.
The video eventually found its way to traffic safety organization ROADS.sg's Facebook page, where it has been liked almost a thousand times. Many commenters saw the humor in the situation.
"Issue him a ticket for jaywalking," wrote one user, adding a string of laughing emojis.
"Better monitor that lizard's next move!" wrote another, making a pun about the lizard's species.
Some even put forth hypotheses as to what the lizard was doing in the middle of the road.
"Because lizards are cold-blooded, they sometimes go onto asphalt to warm themselves up. Which is cheaper than getting hot stone therapy at your nearest spa," wrote user Peter Simeon Khew.
Another water monitor made the news recently when it infiltrated a Thailand 7-Eleven and proceeded to clamber up a set of shelves Godzilla-style, eliciting gasps from surrounding customers.