Police Officer Says 'Hell Yeah, Let's Get Some' in Bodycam Footage From George Floyd Protests
Newly released body camera footage from the George Floyd protests in California, shows a police officer yelling "Hell yeah! Let's get some," and another on a motorcycle hitting a man running away.
The three videos, roughly 20-30 minutes in length each, were the first to be publicly released of San Jose cops clashing with Black Lives Matter demonstrators. The San Jose Police Department shared them on Friday afternoon after officers faced criticism for the incidents they depicted.
In a statement, San Jose Police Chief Eddy Garcia said the department hopes "releasing these videos will provide the public more clarity into each of these incidents." Their release comes following months of heavy public criticism against law enforcement of the three events that took place.
"Each video is only one piece of information used to fully understand a complex event," Garcia explained. "Some opinions and conclusions may be affected after watching certain videos; others will not."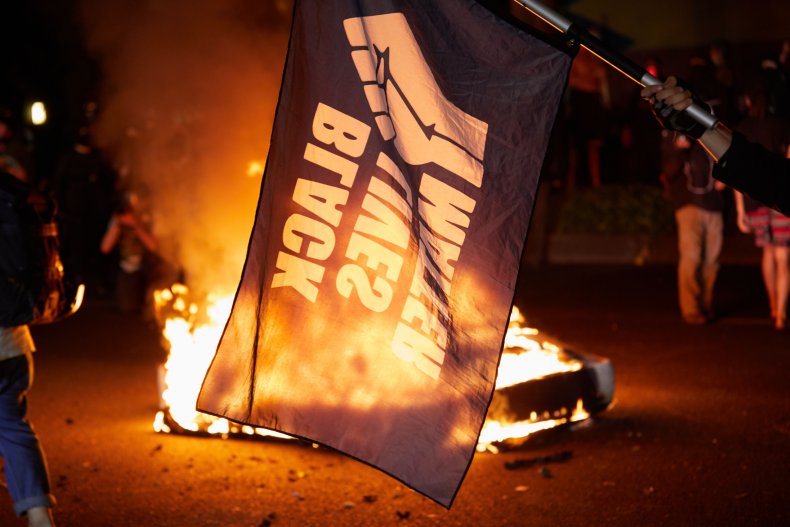 While the footage shows the events from the police point of view, they are not the first videos to be released of the scenes that took place. In recent months, the media and social media users have shared clips of each incident from various perspectives.
One of the clips released Friday provided further context to a controversial incident that had been widely-denounced on social media since early June. In it, a police motorcycle can be seen hitting a man running away. The department's video shows officers chasing the man who allegedly attempted to enter a closed bank, before striking him with the motorcycle.
Another clip depicted an incident on May 29 involving Officer Jared Yuen, who faced widespread condemnation online over aggressive comments he made during protests. The department launched an internal probe into Yuen's conduct that is still ongoing.
Bodycam footage shows Yuen yelling, "Hell yeah, let's get some" and "Let's get this motherf*****," as police closed in on a protester that allegedly threw a bottle.
Large protests have erupted across America and other parts of the world since the death of Floyd, a 46-year-old African-American man, in Minneapolis police custody on May 25. While all four cops involved in the incident were charged in the weeks after a video emerged showing Floyd's final moments, their arrests did little to quell the unrest that has rocked the country.
Demonstrators are demanding an end to systemic racial injustice and police brutality. Countless videos shared online over the past few months have depicted law enforcement responding with tear gas, rubber bullets and violence against some protesters.
Newsweek reached out to the San Jose Police Department for comment.