Who Is Sean Gannon? K-9 Police Officer Shot and Killed, Dog Injured
A K-9 police officer was shot and killed while serving a warrant at a house in Massachusetts, police said.
Yarmouth Police Officer Sean Gannon, 32, was one of the officers serving an arrest warrant at a house in Barnstable, Cape Cod, when he was shot on Thursday afternoon. He was pronounced dead at the hospital. The officer's police dog, Nero, was injured, and his condition is unknown.
"With deep sorrow and heavy hearts the Yarmouth Police Department reports the loss of Officer Sean Gannon," wrote the police department on its Facebook page. "We must tend now to his family and the needs of our department and our community. We appreciate your love and support and ask that you pray for Sean and all of us who serve."
The suspect, Tom Latanowich, from Somerville, Massachusetts, was brought into custody after a police standoff and will be charged with murder, police said.
Latanowich, 29, has a criminal past. He was arrested in October 2016 for allegedly strangling a pregnant woman and vandalizing her vehicle after getting into a fight over a cellphone bill, The Cape Cod Times reported. He was arrested again in December 2016 for allegedly stabbing a man in Yarmouth, according to The Boston Globe.
A GoFundme page has been created to help support Gannon's family. The fund has raised more than $6,500 of its $50,000 goal.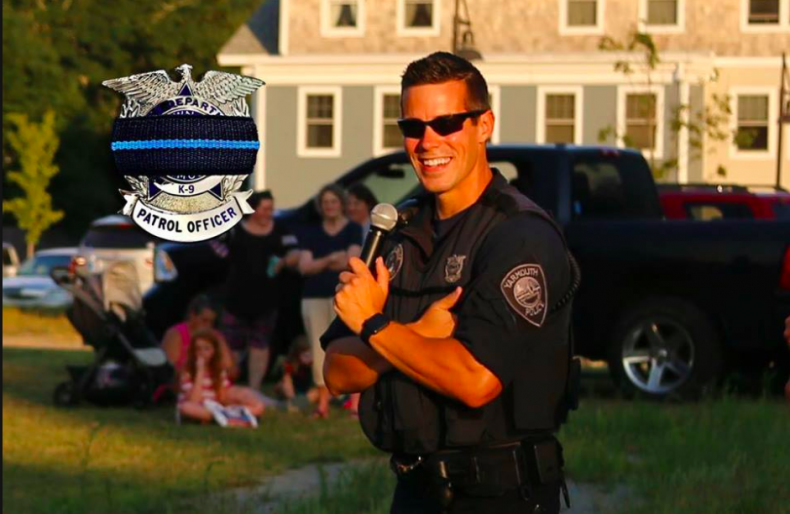 "At 32, Sean leaves behind his beloved wife, Dara and their three dogs, including K-9 Nero, Kira and retired K-9, Thor—all of whom he loved immensely," the fundraiser description reads.
Gannon was described as "the type of person who would go out of his way, completely above and beyond, to help anyone," and was "funny, universally liked," according to the fundraiser description.
Newsweek has reached out to the organizer of the fundraiser for comment.