Police Officer Shot and Killed With Own Gun During Arrest Gone Wrong
Tributes were paid to a police officer who was shot with his own service weapon by a man who went on to use the gun to kill an elderly woman inside her home.
Weymouth Police Department officer Michael Chesna, 42, was shot dead on duty while responding to a call of an erratic driver, reported CBS Boston.
Officers discovered a crashed BMW and a suspect vandalizing a home in Weymouth, Massachusetts. Chesna drew his gun and commanded the man to stop.
The suspect, later identified as 20-year-old Emanuel Lopes, threw a rock at Chesna's head, knocking him unconscious. Lopes then took the officer's gun and repeatedly shot him in the head and chest, Norfolk District Attorney Michael Morrissey said, according to Associated Press.
Lopes allegedly ran off with the gun still in his possession and fired three more times, killing an innocent woman who was inside her home.
Lopes was hit in the leg during the shootout with police. He was taken to South Shore Hospital with non-life-threatening injuries and is scheduled to be arraigned on double murder charges.
According to Boston 25 News, Lopes was awaiting trial on charges of vandalism, possession to distribute a class B substance and resisting arrest at the time of his latest arrest. He also attempted to flee from police in October 2017, while they were trying to detain him on suspicion of selling cocaine to minors.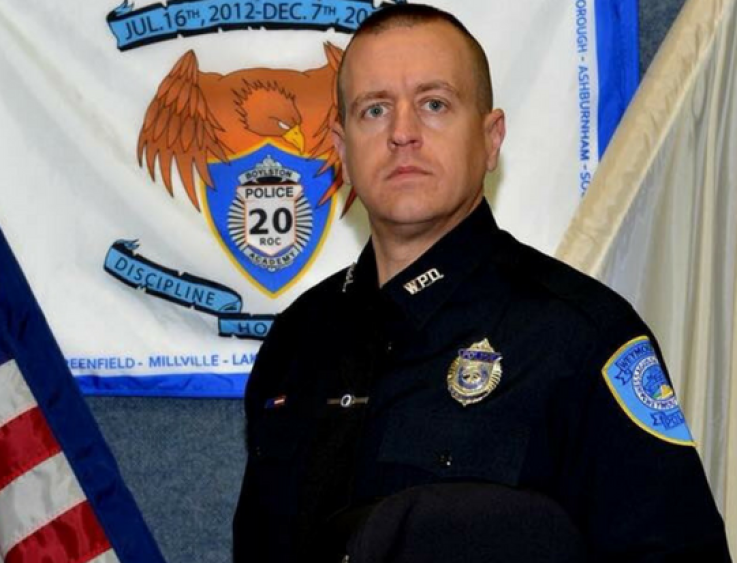 Chesna, a veteran of the Iraq and Afghanistan wars, was described as a "great family man [and] a great officer" by Weymouth Police Chief Richard Grimes, reported CBS Boston.
"I would see him in the morning coming in from the street, and he always had a kind word and a good attitude," Grimes said. "He was one of those people who truly sought this job, was fortunate enough to get it and very much appreciated it. And we very much appreciated his service to the Weymouth Police Department."
Grimes said Chesna would have celebrated his sixth anniversary with the department on July 16. Chesna left behind a wife and two young children.
Massachusetts State Police Colonel Kerry Gilpin his "offered deepest condolences" to the officer's family in the wake of his killing.
"The State Police Detective Unit for Norfolk County, the State Police Crime Scene Services Section, and the State Police Ballistics Section, and our State Police Crime Lab will work tirelessly alongside District Attorney Morrissey and the Weymouth Police Department to speak for these two victims by holding the defendant accountable for these horrific crimes," Gilpin said in a statement.
Massachusetts Governor Charlie Baker stated, "I am deeply saddened to learn of the passing of Officer Chesna and an innocent bystander today, and my thoughts and prayers are with their families, loved ones and the Weymouth Police Department after this tragic loss.
"The Commonwealth is forever grateful for the courageous men and women who risk their lives to serve and protect our communities every single day."
Police Officer Shot and Killed With Own Gun During Arrest Gone Wrong | U.S.