Police Officer Suspended for Holding Black Doctor at Gunpoint on Own Driveway
A police officer has been suspended after video emerged of him brandishing his gun at a Black doctor parking on his own driveway in Colorado.
Media outlet 9News said Dr. P J Parmar lodged a complaint with the Aurora Police Department, saying he said he was confronted by the officer in an incident he believes was racially motivated.
Newsweek subscription offers >
Parmar said: "He jumped out of his car, told me to get my bleeping hands in the air and was right at my door with his gun at my head."
Footage from the officer's body camera appears to support Parmar's account of the incident.
Parmar told the officer he owned the property, but was still questioned.
Parmar is the owner and founder of Mango House in Aurora, which provides aid for refugees at two sites, one in Galena Street and another at East Colfax Avenue.
Newsweek subscription offers >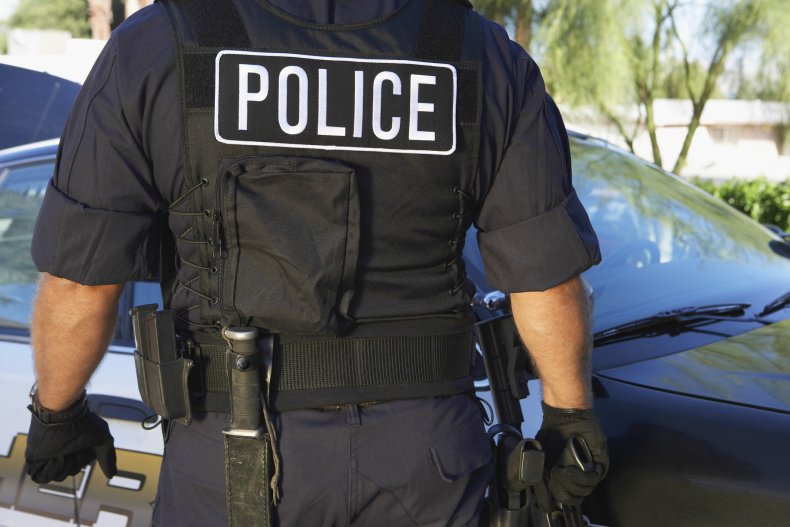 Parmar told reporters his ordeal began when he was trying to drop off some Boy Scout equipment at the Galena Street address and found a police car blocking his way.
Parmar said he sounded his horn. Instead of moving, the officer leaped out of his car and held the doctor at gunpoint,
Video of the incident, which took place in March, shows Parmar repeatedly telling the officer to leave.
However, the officer replies: "I'm going to find out whose property this is first."
Holding the gun, the footage shows the officer telling Parmar to stay in his car.
Parmar told 9News: "I was scared a little bit but he had me as a deer in the headlight."
Parmar has also told local media that although the gun being pointed at him was upsetting, it was not the most hurtful part of the confrontation.
"What hurt the most was him questioning whether I owned that property."
Later on the clip, two additional officers arrive and Parmar tells them to get off his property as he has work to do.
When the first officer tells Parmar he is doing his job and would surely want him to move a homeless person on, the doctor says: "I take care of them. I don't want you taking care of them."
The Aurora Police Department has now sent Parmar a letter informing him the officer was being suspended for 40 hours and was also being ordered to receive additional training.
Police Officer Suspended for Holding Black Doctor at Gunpoint on Own Driveway | News