Police Officer Raped, Killed Woman He Arrested Citing COVID Rules
A police officer arrested a woman in London on the pretext of her breaking COVID lockdown rules, before raping and killing her, a court has heard.
An outcry in the U.K. followed the case of Sarah Everard, 33, who disappeared as she walked home from her friend's house in Clapham, a suburb in south London, on March 3, 2021.
Wayne Couzens, 48, was a diplomatic protection officer with London's Metropolitan Police, a role which entitles him to carry a firearm.
While not on duty at the time of Everard's disappearance, he had used a police warrant card and handcuffs to deceive her into getting into his car, the court heard.
In outlining the case for the prosecution, Tom Little QC, told the Central Criminal Court of England and Wales that witnesses had seen a man in dark clothing handcuffing a young woman.
The victim had been "compliant, with her head down and did not appear to be arguing," he said, citing the witness who had concluded that it must have been "an undercover police officer arresting a woman," who had done something wrong, The Times of London reported.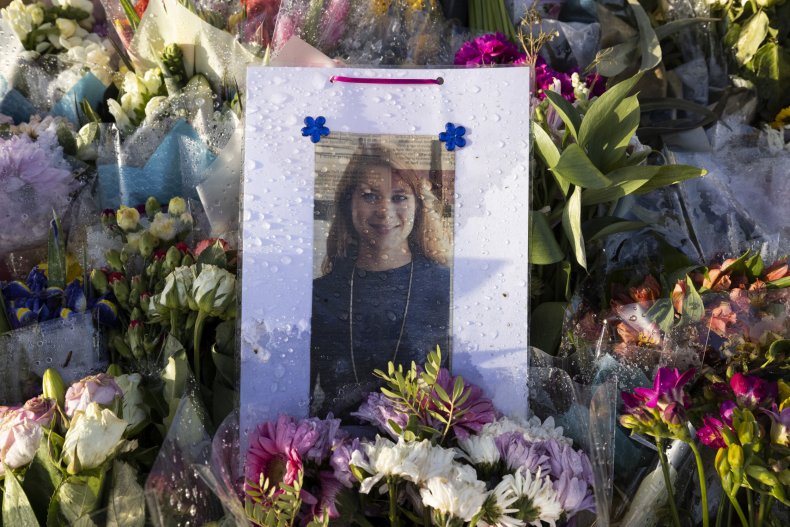 Because Everard had been described as "savvy and streetwise" it was unlikely that she would get into a vehicle with someone unknown "unless by force or by manipulation," Little said.
"That is precisely what happened," he continued, as the court heard how Couzens had used the excuse of COVID regulations to abduct the victim so that he could rape and strangle her.
After her disappearance and subsequent discovery over 50 miles away on March 10, 2021 in a woodland in Ashford, in the county of Kent, the case had been summarized on social media as #shewasonlywalkinghome.
"Sarah Everard was only walking home when she was taken off the street," Little continued. "However, those five words do not fairly or completely begin to describe what happened to her" after she was kidnapped.
Little said that "while it is impossible to summarize" what Couzens did in just five words, "if it had to be done, then it would be appropriate to do so as 'deception, kidnap, rape, strangulation, fire.'"
Couzens, who was in court on Wednesday to hear the details of the case read out, has pleaded guilty to abducting and murdering the victim. He will be sentenced on Thursday.
Protesters outside the court held placards accusing the Met of having blood on its hands.
Question marks surround why Couzens was not arrested before his behaviour had escalated from alleged indecent exposure offences that had occurred three days before Everard's abduction.
The watchdog, The Independent Office for Police Conduct, is examining another claim Kent police failed to properly investigate a report from 2015 of a man driving naked from the waist down.
Scotland Yard said it would not comment until the investigation into the alleged failures was complete, but said in a statement, "we are sickened, angered and devastated by this man's crimes which betray everything we stand for."