As Police Officers Across America Quit, Homicide Rates Rise in America's Biggest Cities
Homicide rates in several of America's largest cities have risen by double-digit percentages within the last few months, amid police officers' decisions across the country to resign or retire early.
Crime statistics show that homicides are up in big cities, including New York, Philadelphia and Chicago, as well as smaller cities like Milwaukee.
Data from the National Commission on COVID-19 and Criminal Justice show that homicide and gun assault rates began increasing in late May, coinciding with the May 25 death of George Floyd, an unarmed Black man who died while in Minneapolis police custody. Floyd's death sparked a resurgence of the Black Lives Matter movement and ignited a wave of protests both nationally and around the world.
"Rates of homicide, aggravated assault, and gun assault began to increase significantly in late May," according to the data report. "Multiple factors likely explain these trends, including diminished police legitimacy in the wake of Floyd's killing."
Available data from more than 15 cities showed that homicide and aggravated assault rose 37 and 35 percent in June, respectively.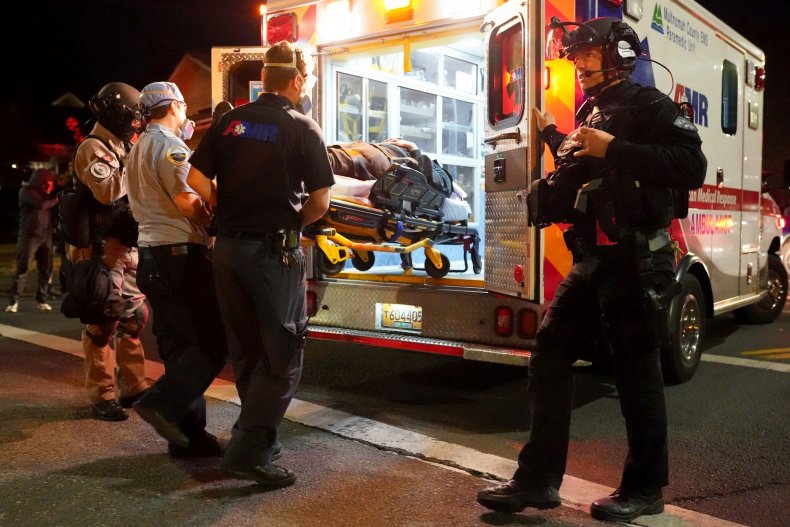 The commission's report comes amid protesters' calls to defund or abolish the police and an increasing number of police officers and chiefs who are choosing to retire early or resign.
Seattle's Police Chief Carmen Best resigned Monday, hours after the city council voted to cut her department's staff by as many as 100 officers, as well as reducing the command staff's salaries.
Best, the city's first Black police chief, said at a news conference Tuesday that while she was fine with taking a personal pay cut, she did not want to be forced to lay off young police officers, many of whom are minorities hired in part to improve the force's diversity.
"That, for me—I'm done. Can't do it," Best said. "It really is about the overarching lack of respect for the officers."
Manny Ramirez, president of the Fort Worth, Texas, Police Officers Association, told news station WFFA that it had seen more police officers retire in the past seven months of 2020 than they had in the past 30 years.
"Just last year, we saw a 60% decrease in the number of applications around the nation to become police officers, and we know it's going to be far worse this year," Ramirez said, adding that the current civil unrest was not helping. "The bottom line is when your profession is turned into a political football you can see why these police chiefs are walking away at record pace."
In the New York Police Department (NYPD), 272 officers put in a request to retire from the time of Floyd's death through June 24, the New York Post reported. This is a 49 percent increase compared with the 183 officers to retired last year during the same time period, the department said.
It is unclear how many police retirements and resignations across the U.S. have to do with protesters' calls to defund or even abolish the police or how much they're affecting these rising rates of violence.
In a press release announcing June citywide crime statistics, however, the NYPD revealed "ongoing challenges," including an "increase in retirements" and a "round of deep budget cuts" leading to more than 1,000 recruits being canceled.
Newsweek contacted the NYPD for comment, but did not hear back in time for publication.