Police Officers Arrested Over 'Inappropriate' Photos of Murdered Sisters
Officials arrested two London Metropolitan Police Service officers Thursday after claims that inappropriate pictures had been taken at a murder scene and shared with members of the public.
"It's just unthinkable to take a selfie with two dead women and then to share that on a forum, on a WhatsApp group," Dawn Butler, a British Party Labor Party politician, told Channel 4 News of the allegations. "I mean, it makes you wonder just what's going on and what these officers have been up to previously."
The officers, whose names have not yet been released to the public, are based with the Met's North East Command, according to ITV News. Both officers have been suspended from active duty pending further investigation.
"The investigation relates to allegations that inappropriate photographs were taken at a homicide crime scene and subsequently shared with a small number of others," Independent Office for Police Conduct (IOPC) said in a statement. "The Metropolitan police service is handling matters involving those members of the public who may have received those images."
Representatives with the Met did not respond to Newsweek's request for comment before the time of publication.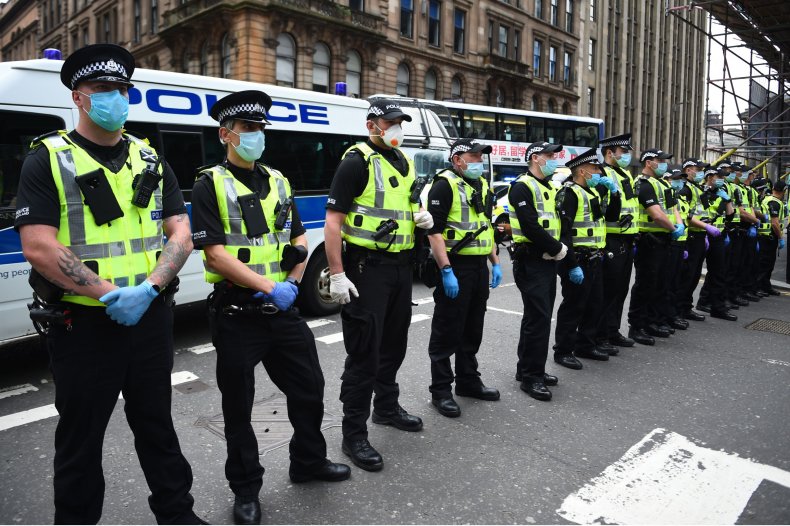 The pictures were taken at the crime scene of murdered sisters Nicole Smallman and Bibaa Henry. The pair was found stabbed to death by a stranger in a northwest London park June 7.
The Guardian reported that multiple photos were taken of the scene, including one showing a police officer.
The Met's directorate of professional standards was notified of the pictures and referred the allegations to the IOPC, which arrested the two officers and is now handling the investigation of the leaked photos.
"These are sickening allegations and when we were made aware by the Metropolitan police we acted quickly to arrest the officers involved in order to seize vital evidence," Sal Naseem, the IOPC director for London said in a statement. "The victims' family are naturally extremely distressed at this turn of events."
The IOPC's investigation will determine if any criminal charges will be brought to the officers involved.
Representatives from the IOPC could not be immediately reached by Newsweek for further comment on the investigation.
City officials echoed the IOPC director's rhetoric.
"Londoners will be undoubtedly disgusted by these sickening allegations and I am deeply concerned about the impact this will no doubt have on the victims' family, friends and the wider community," said London Mayor Sadiq Khan in response to the officers' alleged behavior.
Met Commander Paul Brogden said he was "horrified and disgusted" by the allegations.
"If true, these actions are morally reprehensible," he said.
The arrests of these two London officers are reminiscent of recent police officer arrests and firings made in several cities throughout the U.S., as thousands around the world continue to protest police brutality.
A Miami Police Officer was arrested Thursday and charged with battery after kneeling on a woman's neck.
Three officers in Wilmington, North Carolina, were fired Wednesday after appearing in a video where one of them said he "can't wait" to slaughter Black people and that a civil war was needed to wipe them out.