Police Officers Charged With Murder of Man Shot With Stun Guns 50 Times
Two Oklahoma police officers have been charged with second degree murder after allegedly shocking a 28-year-old man with stun guns more than 50 times.
The Oklahoma State Bureau of Investigation issued a statement on Thursday alleging that Wilson Police Department officers Joshua Taylor, 25, and Brandon Dingman, 34, shocked Jared Lakey "multiple times" on July 4, 2019, leading to the 28-year-old's death two days later.
Taylor and Dingman were responding to a call about Lakey acting in a disorderly way when they allegedly shocked him several times for not obeying orders, according to the Oklahoma State Bureau of Investigation.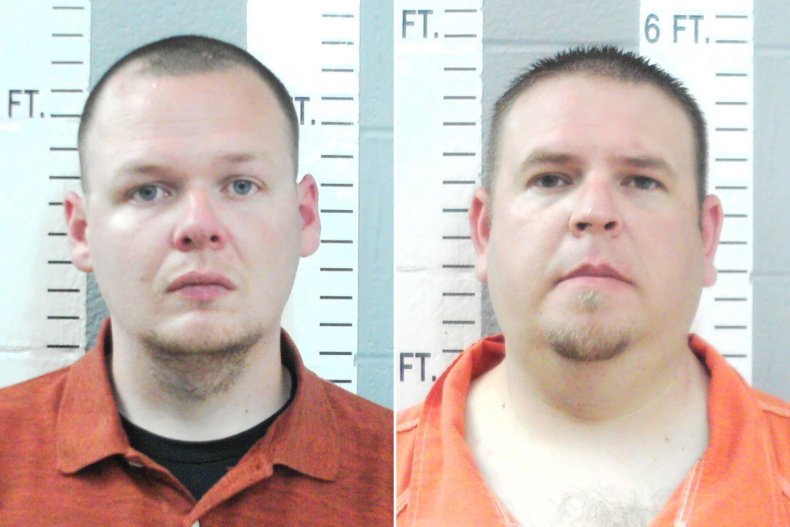 "A Carter County deputy eventually responded to the scene and was able to assist with getting Lakey in custody. Shortly thereafter, Lakey stopped breathing and became unresponsive," the bureau's statement read.
"Lakey was transported to the hospital in Healdton and then to OU Medical Center in Oklahoma City, which is where he died."
Arrest warrants for the two officers were issued by the Oklahoma district attorney's office on July 1, prompting the pair to hand themselves in the following day.
Taylor and Dingman were both bonded at $250,000 and have now bonded out, the Oklahoma State Bureau of Investigation said.
According to court documents seen by The New York Times, the officers are alleged to have used their stun guns more than 50 times combined, and "greatly exceeded what would have been necessary or warranted by the attendant circumstances" at the scene.
The lawyer for Lakey's family, Spencer Bryan, told The Times that he witnessed "disturbing" body camera footage of the 28-year-old's arrest, adding that he was confident the evidence supported the charges brought against the officers.
In a statement to the newspaper, Ryan Hunnicutt, the lawyer of Dingman and Taylor, said: "We are confident that the legal system will provide an opportunity for all the facts to be known and look forward to our day in court."
Newsweek has contacted the Oklahoma State Bureau of Investigation for further details.
According to Reuters research into stun gun related deaths, more than 1,000 people in the U.S. had died after being shocked by police using stun guns at the end of 2018, with almost all such cases taking place after 2000.
Back in February 2012, Amnesty International urged police stun gun use to be restricted in the U.S. after it recorded 500 shock related deaths.