Police Officers Had 'What Appeared to Be Blood' Thrown on Them During Philadelphia Protests, Commissioner Says
Amid the ongoing protests in Philadelphia, police officers had "something that appeared to be blood intentionally thrown at them" on Tuesday night, according to Philadelphia Police Commissioner Danielle Outlaw.
During a press conference Wednesday, Outlaw provided an update on the night's protests in the city following the fatal police shooting of Walter Wallace Jr., a 27-year-old Black man, on Monday.
In addition to the apparent blood thrown on the officers, Outlaw noted that "there have been 23 injured officers. Injuries include various cuts and bruises, etc. These are from thrown projectiles, rocks, bricks, etc."
In response to the Wallace shooting, protesters have clashed with police and caused widespread damage across the city.
At her press conference, Outlaw condemned the violent protests, saying, "What we saw yesterday throughout our city, but particularly in the area of Castor and Aramingo [avenues], had absolutely nothing to do with protests."
She continued, "The widespread lawlessness, including the burglary and looting of area businesses, serve no purposes whatsoever. These individuals are doing nothing but simply wasting our precious resources. Let me be perfectly clear: This behavior is not acceptable, not under any circumstance, nor will it ever be tolerated."
According to Outlaw, after Tuesday night's protests, police have received 297 reports of looting incidents and nine incidents of damage and vandalized vehicles.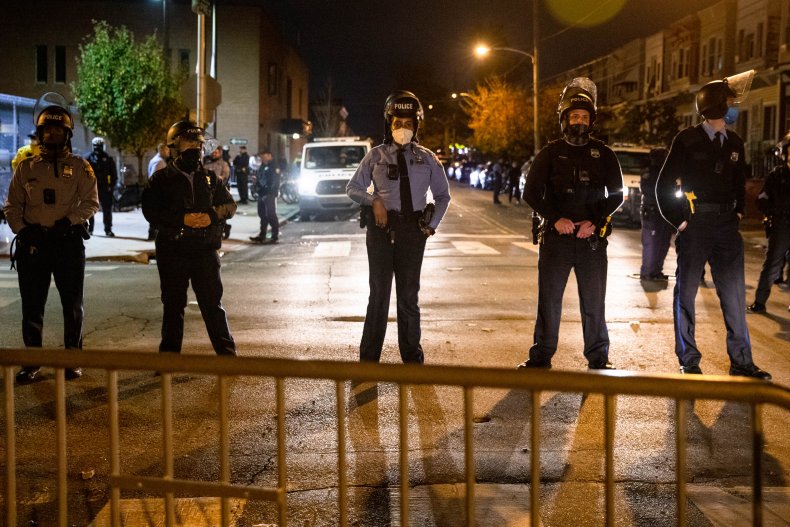 "Yesterday there were 81 arrests that were made citywide during the civil unrest," Outlaw said during the press conference, adding that 53 people were arrested for burglary, eight for assault on police officers, one arrest for aggravated assault, four for robbery, one for arson, two for criminal trespassing, one for vandalism and seven for disorderly conduct.
The Philadelphia Police Department declined to comment after it was contacted by Newsweek.
Philadelphia Police Deputy Commissioner Melvin Singleton also spoke during the press conference and said 1,000 people were involved in looting and burglary in the Castor and Aramingo avenues area.
"We had set up in the city roving looting patrols as well as static patrols in the area in this particular location of Castor and Aramingo," Singleton said. "However, 1,000 looters were not expected. We had zero information to warn us of this."
Wallace was shot after officers responded to a call about a man with a knife. Upon arrival, they saw him holding a knife and waving it around erratically. The person who filmed the incident, JaHiem Simpson, told CNN that he saw the officers pull their guns as soon as they noticed the knife.
Videos of the incident show Wallace walking around a parked car as the officers backed up while he walked toward them. The officers then shot him several times, and he was taken to Penn Presbyterian Medical Center, where he died.