Police Officers Kneel, Join Marches in Cities Across the Country to Show Solidarity with Protesters
As protests demanding an end to police brutality and justice for George Floyd unfolded across the country over the weekend, social media was flooded with footage of police officers violently arresting demonstrators and firing rubber bullets and tear gas into crowds.
Videos showing protesters, passersby and journalists being thrown to the ground by officers or bleeding after being struck by rubber bullets have only fueled further outrage.
In some cities across the country a vastly different scene unfolded, with officers showing solidarity with protesters by joining demonstrations calling for justice for Floyd, who was killed after Minneapolis Police Officer Derek Chauvin kneeled on his neck for nearly nine minutes.
'Walk with us'
In Flint, Michigan, Genesee County Sheriff Chris Swanson gained international attention after he decided to take off his helmet and lay down his baton to march alongside protesters in a show of solidarity.
"We want to be with y'all, for real. I took my helmet off, laid the batons down," Swanson can be seen telling demonstrators in video published by NBC 25 News.
"I want to make this a parade, not a protest. These cops love you. That cop over there hugs people, so you tell us what you need to do," he said. That is when protesters began to chant: "Walk with us."
"Let's walk," the sheriff responded, before joining protesters. During the walk, Swanson spoke with demonstrators about what local law enforcement could be doing to strengthen its relationship with the local community.
At the end of the evening, Swanson gave a speech to a cheering crowd, saying he would never forget that night.
"What I saw was what the entire nation saw when they see people that are angry, people that feel like they don't have a voice turn in a second when the police listen to them, when the police understand them and when I asked what I can do," Swanson said.
"Police condemn what happened in Minneapolis. That's not who we are. But there are good people that love you, need to hear what you have to say. Enough is enough on our end," Swanson told a cheering crowd.
'Standing in solidarity'
In Camden, New Jersey, police officers could also be seen joining protesters, with Camden Police Chief Joseph Wysocki helping carry a banner emblazoned with the words: "Standing in solidarity."
"In New Jersey the police officers are protesting WITH the people shouting no justice no peace," a Twitter user wrote, sharing video of the demonstration. "This is how it should be, every police station should be walking with their community. There is no excuse!"
U.S. Rep. Donald Norcross and Camden Mayor Frank Moran were also seen joining the demonstration.
In a statement published on Twitter, the Camden County Police said Wysocki wanted to stand "together with the residents we serve to remember and honor George Floyd."
Taking a knee
In Manhattan, a number of officers with the NYPD, a department that has faced widespread scrutiny over its relationship with the black community, joined protesters, with several officers in the 103rd Precinct taking a knee in a show of solidarity.
In video shared on social media by Aleeia Abraham, who runs an organization called The BlaQue Resource Network in Queens, demonstrators could be heard cheering and saying "thank you" as officers took a knee, a move popularized by football player Colin Kaepernick, who would kneel on the field in a show of peaceful protest for an end to police brutality.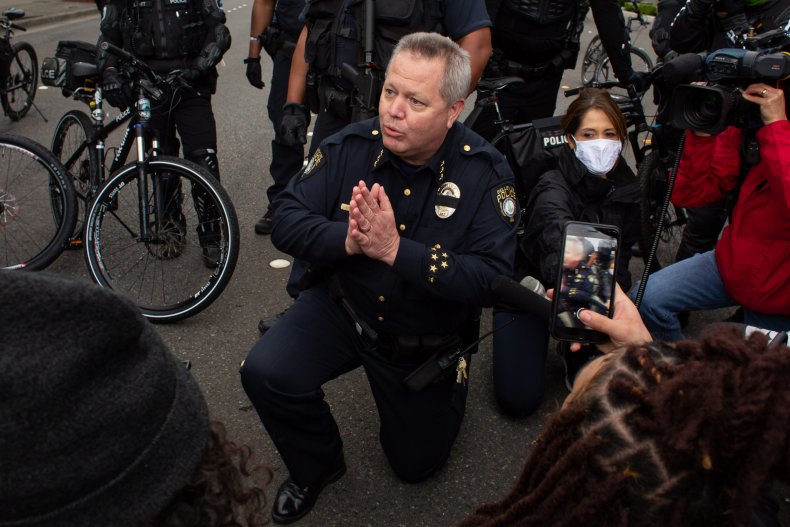 In Bellevue, Washington, Police Chief Steve Mylett was also pictured taking a knee while speaking with demonstrators.
In a statement posted on Twitter on Sunday, the department said Mylett was "talking with the peaceful demonstrators, answering questions."
"We stand with those in Bellevue who are here to protest injustice," the department said.
It also asked the public to stop calling 911 to report looting. "We are aware of the situation and are actively working on it," the department said, adding that 911 was "getting inundated with calls about looting and the lines need to be left open for emergencies."
'In memory of George Floyd'
In Santa Cruz, California, Police Chief Andrew Mills also joined demonstrators and showed solidarity by taking a knee.
On Twitter, the Santa Cruz Police department said the police chief had taken a knee "in memory of George Floyd" and to bring "attention to police violence against black people."
'It's time for a revolution'
In Green Bay, Wisconsin, Green Bay Police Department Police Chief Andrew Smith also joined demonstrators in calling for an end to police brutality.
"I've been here for about four and a half years. Before that I was a policeman in Los Angeles since 1988. I've been doing this job for 32 years now," Smith told protesters, according to ABC 2 News.
"I want to first start off by saying thank you for being here. I respect you for being here. I think it's the right thing for you to be out here protesting," he said.
Addressing the social media video that sparked protests across the U.S. and around the world, Smith said he was "sickened" when he watched the footage of Floyd's last moments.
"It was one of the most horrible things I've ever seen. To watch a police officer wearing the uniform I wear proudly, doing [something] as despicable as that," he said, according to the broadcaster.
"I said to myself, 'That is murder right there' and sure enough, 2-3 days later he was arrested," the police chief said, noting that Chauvin has since been charged with third-degree murder and second-degree manslaughter.
"We have a long way to go with law enforcement in the country," Smith said. "We have a long way as far as accountability and the person that is responsible for holding officers accountable for the actions they take is me.
"We don't hire people that don't have the character to be good police officers, to be honest, to be hardworking and treat people fairly," he said. "If you're not disgusted as a police officer by what you saw in Minneapolis, then you are in the wrong business."
The police chief then thanked protesters again for "peacefully demonstrating," asserting that their actions were "as American as apple pie."
"This is what America is all about. It's time for a revolution," he said. "To the days of Martin Luther King, peaceful protests are what make change. Thank you for being here and thank you for being part of the change."