Police Play Taylor Swift While Being Recorded to Avoid Footage Being Put Online
A sheriff's sergeant was recorded on video playing a Taylor Swift song during a confrontation with a member of the public in an effort to avoid having the footage uploaded onto the Internet, KTVU reported.
James Burch, policy director of the Anti Police-Terror Project (APTP), was standing outside of the Alameda Courthouse in Oakland, California, when a sergeant from the sheriff's office approached Burch and asked him to move a banner in support of Steven Tyler, a man killed by a San Leandro police officer in April 2020.
As Burch and the sergeant began exchanging words, the sergeant is seen taking out his phone and playing "Blank Space" by Taylor Swift.
"Are we having a dance party now?" Burch asked when the music began.
Burch and a female who was filming the incident seem confused at first, but Burch quickly catches on and tells her: "He doesn't want you recording so he's playing music in the back."
The sergeant then seems to confirm Burch's suspicion, saying: "You can record all you want. I just know it can't be posted on YouTube."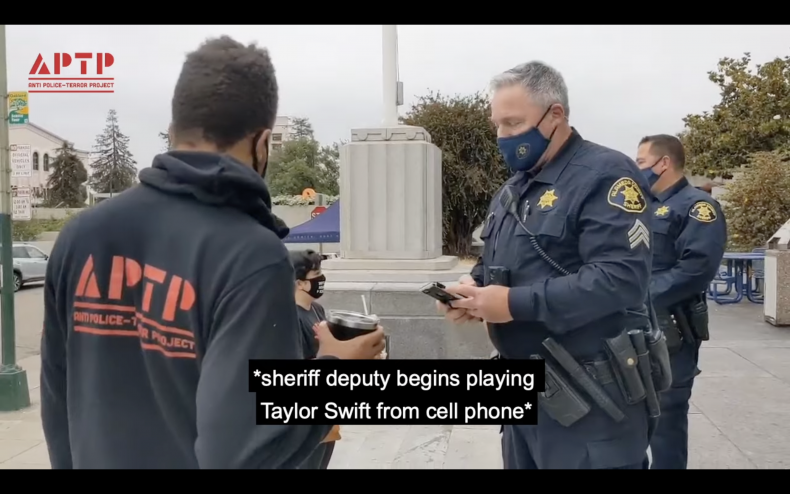 Under First Amendments rights, citizens are allowed to record police. But due to copyright laws online, music in the background can sometimes trigger a takedown notice.
However, APTP was able to upload the clip to YouTube on Thursday without having the company's automatic system remove the video.
"The fact that these members of the Alameda County Sheriff's Department would go to such lengths to deny us the ability to publicize their actions speaks volumes to how they perceive their relationship with the People of Oakland," Burch said in a statement.
APTP added on Twitter: "At a time when the Oakland Police Chief is spreading misinformation, with support from Mayor Libby Schaaf and Council Member Loren Taylor, about 911 response times and fear-mongering about a decrease in public safety following the reallocation of $18.4m from the police budget to alternative police-free services, it's remarkable to see two highly paid sergeants & two deputies spend time policing family members of a man shot by police outside a hearing."
Alameda County Sheriff's Office spokesperson Ray Kelly called the incident "unacceptable and not a good look for law enforcement."
"We are held to a higher standard and a code of conduct," Kelly told Newsweek in an email.
Ray said an internal investigation had been launched, but did not specify if the sergeant will face any immediate disciplinary actions.
Updated 3:40 p.m. ET, with comments from Alameda County Sheriff's Office spokesperson Ray Kelly.