Police Praise Heroic Citizens Who Used Milk Crate To Stop Knife-Wielding Man In Sydney
Heroic citizens and officers chased down a man going on a stabbing rampage on Tuesday in Sydney, Australia. A dramatic video showed one citizen approaching the man with a chair — the suspect ends up subdued with a milk crate over his head and a chair over his body while citizens in Sydney's CBD (Central Business District) wait for the police to be called.
In the video, the man — whose name was later identified to be 21-year-old Mert Ney — wielding a large butcher's knife with a bloodied shirt, jumps on a car and shouts something that is hard to hear. At first, a citizen approaches him with a chair. Then, the video cuts to the scene where the suspect is lying on the ground. One man holds as the milk crate on the man's head. "Wait for the cops, wait for the cops," another man can be heard saying, out of breath.
Witnesses who confronted a knife-wielding man in central Sydney are being widely praised for pinning the suspect down before authorities arrived on the scene. Police say the man attempted to stab multiple people, allegedly killing one woman and injuring another, according to the Sydney Morning Herald on Tuesday. One victim has been taken to hospital in a stable condition with a stab wound to her back.
The hashtag #SydneyShooting has been trending on Tuesday, with many people taking notice of the style in which the attacker was brought down, considering numerous mass shootings and the gun violence epidemic throughout the U.S.
Blake Ross tweeted on Tuesday, "America: WE NEED GUNS TO DEFEND OURSELVES! Australia: NAH MATE A MILK CRATE DOES JUST FINE"
Paul O'Shaughnessy, 37, said his brother Luke, 30, saw a man with a balaclava wielding a knife. The pair chased the man and then managed to get a grip on him with the help of a third person, according to New Zealand news site NewsNow on Tuesday.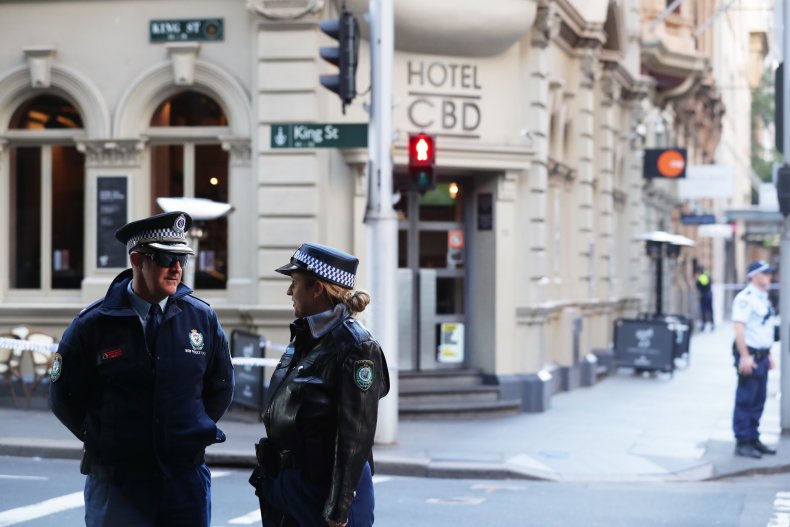 "A number of members of the public physically restrained the offender," Superintendent Gavin Wood said on Tuesday. "I want to acknowledge those members of the public who got involved. They were significantly brave people."
Paul O'Shaughnessy said his brother Luke, whose professional profile states he is a champion Thai boxer, was the "real hero," according to ABC News Australia.
"He pursued him the hardest and managed to get a grip of him with another man," he said.
Prime Minister Scott Morrison commended "the brave actions of those who were present" and said on Tuesday that his "thoughts are with all those who have been impacted by this violent attack."
NSW Police Minister David Elliot said the men had "acted well and truly beyond the call of any citizen."
"Can I also congratulate those firefighters ... as having also gone beyond the call of duty," he said.
Commissioner of the NSW Police Mick Fuller said the men who tackled the man suspected of stabbing two women were "the highest order of heroes."
While Mert Ney's screams suggested a possible allegiance to Islamic extremist ideology, police have since seized a phone and USB stick containing information about recent mass deaths and violent acts of white supremacy in the U.S. and New Zealand.
Police said that Ney, who shouted "Allahu Akbar" while wielding a knife, was most likely a troubled man with a long history of mental health issues and no known links to any terror organizations.
Officers are currently searching the suspect's home near Blacktown in Sydney, according to ABC News Australia.