Police Prepare for Weekend 'White Lives Matter' KKK Rally in Orange County
The Huntington Beach Police Department is preparing to monitor and respond possible unrest at a Ku Klux Klan (KKK) "White Lives Matter" rally in Orange County, California this Sunday.
Fliers announcing the rally appeared in plastic sandwich bags weighted with rocks on the streets of Huntington Beach on Easter morning, according to The Los Angeles Times.
A group calling itself the Loyal White Knights of the KKK emblazoned its name on the fliers.
"White Lives Do Matter: Say NO to cultural geNOcide," one flier with a KKK insignia stated. The flier accused white people of too cowardly to "stand up" for their culture over the fear of being called "racist."
"White civil rights! Our ancestors settled the land, established the country, made the laws—we're the majority. Why shouldn't we control our own destiny???" the fliers said. "If you hate American history we would like to kindly ask you to get out of America!"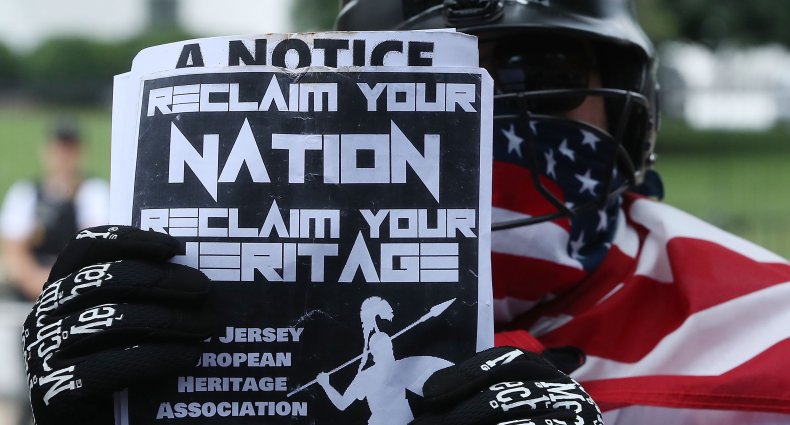 Lieutenant Brian Smith told the Times that a Huntington Beach resident notified police of the fliers on Sunday morning. Smith said that free speech demonstrations, such as this one, don't require a city permit as long as organizers don't erect structures or interfere with traffic and access to public spaces.
"Hopefully it is a peaceful, 1st Amendment-protected type of event that doesn't get to the point where it's affecting public safety," Smith said. "We'll staff it accordingly and have contingency plans in place in case there are issues that arise."
Huntington Beach city officials discussed the rally along with racism and hate crimes in general at the scheduled Monday meeting, according to KTLA.
"The KKK fliers are a cowardly attempt to drum up support for a hateful cause that is in contradiction to Huntington Beach's values of integrity, respect and inclusivity," Huntington Beach Mayor Kim Carr said in a statement. "We have zero tolerance for racism in our City, and while we absolutely support the First Amendment, we stand strongly against hiding behind it to promote hate."
Tory Johnson—the founder of the Huntington Beach chapter of Black Lives Matter and a member of The National Association for the Advancement of Colored People (NAACP)—is organizing a counterprotest to the rally to occur on Sunday at 11 a.m. local time.
"We will demonstrate to show that we are united and that there is zero-tolerance for racism, hate and white supremacy," Johnson's counterprotest flier reads. "We invite all people of goodwill to join us in this disciplined action. In unity and struggle."
Newsweek contacted the Huntington Beach Police Department for comment.
Correction (7:00 p.m., 4/6/2021): This article originally identified Lyn Semeta as the mayor of Huntington Beach; Semeta was the previous mayor. In addition, the meeting was the regularly scheduled City Council meeting on Monday. Newsweek regrets the error.