Police Probe J.K. Rowling Threat From Account That Praised Rushdie Attack
Authorities are investigating an online threat that was sent to British author J.K. Rowling from a Twitter account on Friday that praised the attack on British-American author Salman Rushdie.
"Horrifying news. Feeling very sick right now. Let him be OK," Rowling tweeted Friday in reaction to Rushdie's attack. The author then received a reply from a Twitter account under the name "Meer Asif Asiz" that read: "Don't worry you are next."
Newsweek was unable to independently verify the validity of the account, but the tweet seems to have been deleted by Sunday morning.
"We have received a report of an online threat being made and officers are carrying out enquiries," a Police Scotland spokesperson said, according to The Guardian.
Meanwhile, the Harry Potter author posted screenshots of the threat on Saturday morning, and asked Twitter to take action: "any chance of some support?"
The same account also reportedly posted tweets glorifying Rushdie's attacker, 24-year-old Hadi Matar, saying that Matar is a "revolutionary Shia fighter [who] followed the fatwa [edict] of late [Iranian leader] Ayatollah Ruhollah Khomeini."
One social media user said that the Twitter account has been "locked," but asked the Twitter support team if this is all they can "manage" to do in response to the threat.
The threat to Rowling was also condemned by others including entertainment company Warner Bros. Discovery, who were behind the film adaptations of the Harry Potter books.
"We stand with her and all the authors, storytellers and creators who bravely express their creativity and opinions. WBD believes in freedom of expression, peaceful discourse and supporting those who offer their views in the public arena," the company said in a statement, according to The Guardian.
Rowling has been previously targeted by LGBTQ+ activists over her stance on transgender issues. She previously resorted to the police after individuals posted a photo of her Edinburgh home on Twitter, the BBC reported in January. However, Police Scotland decided that "no criminality has been established" in the incident.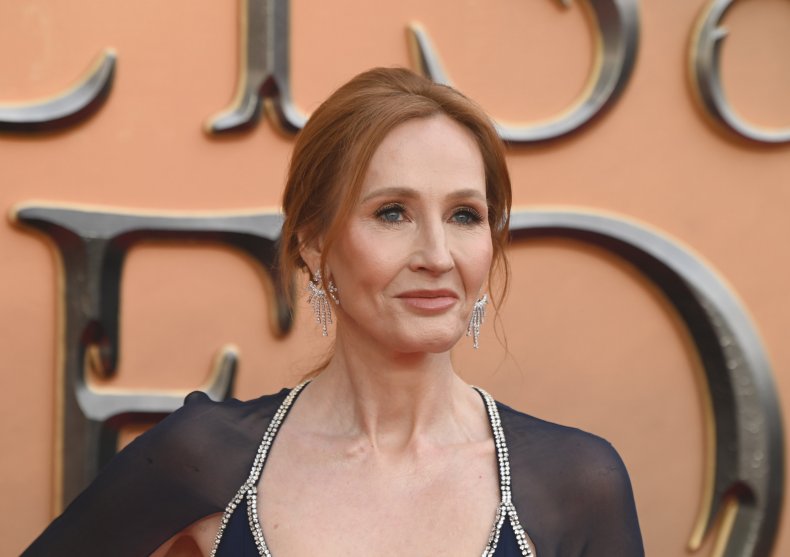 Rushdie was attacked on stage Friday during a panel event at Chautauqua Institution in western New York. The police said that Matar of Fairview, New Jersey, rushed the stage and stabbed the 75-year-old writer, who suffered wounds to his neck and chest, and was taken to a nearby hospital for treatment. The interviewer who was with Rushdie, Henry Reese, suffered a minor head injury.
The author's agent, Andrew Wylie, told The New York Times that "the news is not good," adding that Rushdie "will likely lose one eye; the nerves in his arm were severed; and his liver was stabbed and damaged."
Rushdie has long been targeted after Khomeini's edict to kill the author over his 1988 novel The Satanic Verses, which has been criticized by some for its depiction of the Islamic prophet Muhammad. At one point, Rushdie went into hiding due to the death threats and was placed under police protection.
Newsweek reached out to Rowling's agent, the Scotland police, and Twitter's press office for comment.