Police Probe Viral Video of Women Twerking on SUV Cruiser
A viral video showing three women twerking on top of a moving police SUV has sparked an investigation in Chicago.
A 25-second clip of the incident, which was circulating on social media on Saturday and Sunday, shows one woman on the roof and another two perched on the hood while a small crowd looked on.
The slow-moving SUV is marked "Chicago Police" and one person in the crowd appears to be wearing Bulls gear, the night-time footage shows. It is unclear exactly when or where the video was recorded.
When contacted by Newsweek, Chicago Police Department's Deputy Director Tom Ahern said officers were aware of the video "showing several females riding on a marked squad car."
He added that an investigation into the incident is "currently ongoing."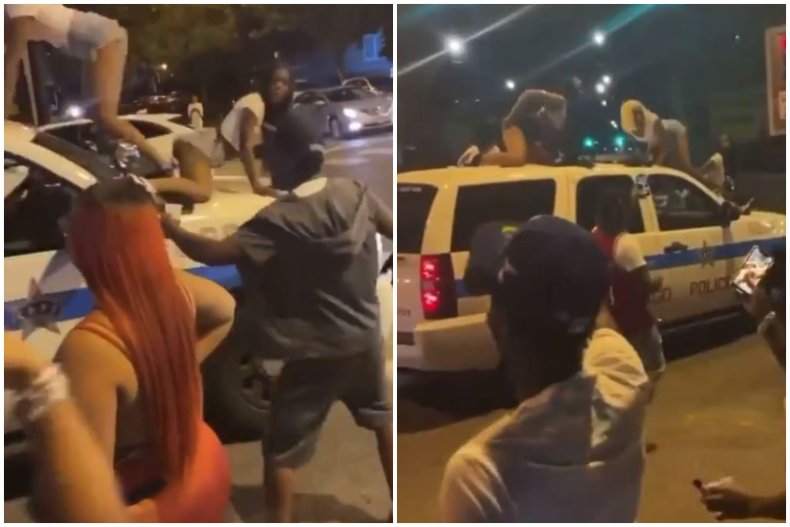 In the video, seen below, one woman can be seen on her hands and knees across the front of the hood, with her feet on either side of the windscreen and facing back at the driver.
Another, who is also dancing, can be seen holding a cell and raising her arm in the air. The third is seen on the roof of the vehicle.
Around a dozen onlookers, some documenting the incident on their cells can be seen around the vehicle.
One Twitter post sharing the video on Saturday morning had been viewed more than 150,000 times by Sunday morning. The same video of the incident that was posted on Instagram shortly after has been viewed more than 140,000 times.
The viral video comes days after a separate high-profile incident involving a Chicago Police SUV.
On June 1, officers made an arrest after a similar police vehicle was set on fire by a man wearing a Joker mask three days earlier.
Photographs taken by witnesses showed a suspect opening the gas cap of the vehicle in the 200 block of North State Street on Saturday, local station WBBM reported.
Another photo shows the suspect sat on the street near the car after it burst into flames.
In another, the individual is seen standing in front of the fireball while wearing the mask. It appeared to be an attempt to mimic a scene from The Dark Knight (2008) in which the Joker (portrayed by the late actor Heath Ledger) walks away after blowing up a hospital.
In the pictures, a neck tattoo featuring the word "pretty" can be seen.
Timothy O'Donnell, who has such a tattoo, faces federal charges on account of the car belonging to the city, which conducts business in interstate commerce.