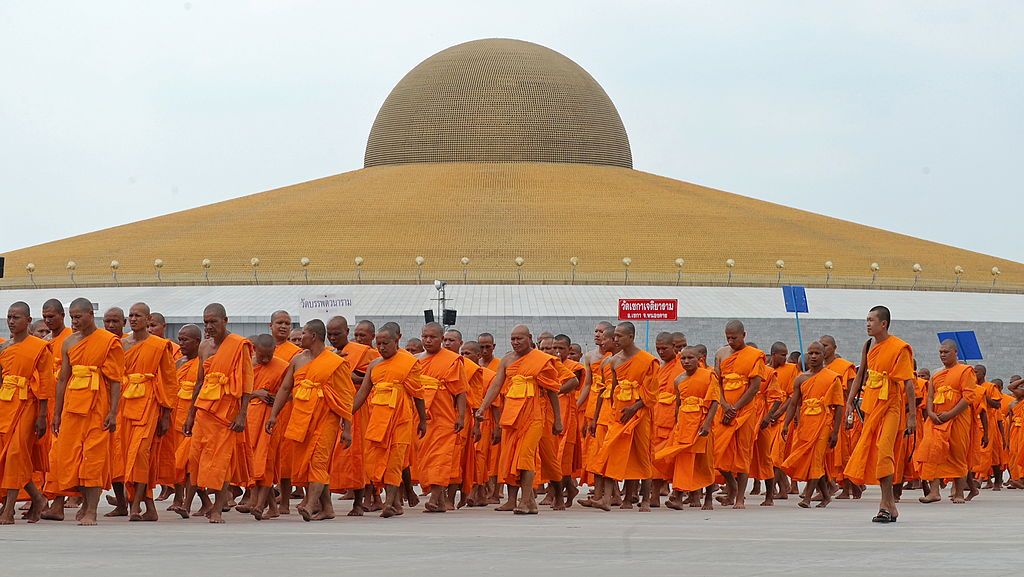 Thai security forces have raided the sprawling grounds of the country's largest temple in search of an ageing but powerful Buddhist monk who is wanted on alleged embezzlement charges.
The police left empty handed after a daylong search on Thursday of the Dhammakaya temple on the outskirts of Bangkok, which is famous for its spaceship-like golden stupa as well as the controversy over its aggressive fundraising and unorthodox teaching.
The temple complex covers 1,000 acres of northern Bangkok—10 times the size of the Vatican City. As the sun set, the country's Department of Special Investigation said its teams would return on Friday to resume the search for Phra Dhammajayo, 72, the charismatic co-founder and former abbot of the temple.
The operation is the latest development in a showdown that has exposed deep divides over religion in the predominantly Buddhist kingdom.
Thousands of security forces in combat gear surrounded the temple overnight after Prayuth Chan-ocha, the prime minister and junta leader, declared the area a "special control zone," allowing it to be placed under military control.
Dhammajayo has declined to surrender for questioning on the complex financial charges, with his lawyers insisting that he is too ill to appear. Temple representatives have denied the accusations, saying the case is politically motivated.
A week before the raid, Phra Pasura Danatamo, the temple spokesman, gave Newsweek a tour of the sprawling compound. Asked about Dhammajayo, he responded, "He is under medical treatment; that is all I can tell you."
The Dhammakaya sect, founded in 1970, is one of the fastest-growing in Thailand, with an estimated 10 million followers and meditation centers across Asia, western Europe and the U.S.
Dhammajayo is venerated by his disciples as an inspirational teacher and meditation guru, but denounced by his critics as the leader of a cult who allegedly promotes donations as a shortcut to good fortune and a path to heaven. The polarized views of the temple reflect major religious and political divisions in Thailand.
Dhammakaya is often associated with Thaksin Shinawatra, the billionaire former prime minister who was deposed in a 2006 coup. (Shinawatra's sister, Yingluck, was removed from office by the current junta eight years later.) The tensions spilled over into the appointment of a new Supreme Patriarch to lead the country's 300,000 monks.
The police launched two major operations against the temple last year, most recently in late December. But the officers were thwarted by a "human shield" of devotees, who were sitting on the road singing Buddhist verses. They retreated after a standoff that lasted several hours.
There have been rumours that the abbot may have been taken out of the complex through secret tunnels or in the back of shipping containers. But his whereabouts remain a mystery, even for the country's authorities.