Police Remove Anti-Vaxxers From Gov's Press Conference as Rhode Island Sets COVID Records
Protesters who planned to attend Rhode Island Governor Dan McKee's Thursday press conference in Woonsocket were asked by police to leave before it began, according to local media outlets.
Anti-vaccine protesters, many of whom were not wearing masks, were photographed by local reporters holding signs in the area where the press conference later took place. One photo taken by a reporter with the Providence-based news station WJAR showed Woonsocket's police chief engaged in discussion with some of the protesters. The protesters then followed the chief's instructions and left the building, the reporter said.
After leaving the room, the protesters could briefly be seen through the windows as they stood outside, though they reportedly left before the press conference began. Some of the individuals gathered inside for the briefing could hear the protesters yelling and honking car horns outside, according to local news station WPRI.
Newsweek reached out to the Woonsocket Police Department for comment.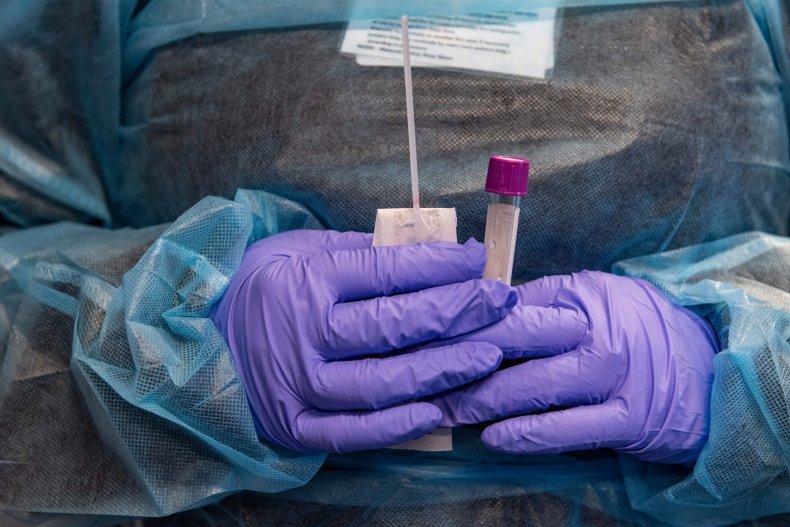 Rhode Island is currently experiencing surging COVID-19 infection rates, and health officials said Thursday they believe about 10 percent of new cases are attributable to the Omicron variant. The variant, which was first confirmed in the U.S. at the beginning of December, has been credited with causing soaring infection rates throughout the U.S. and around the world.
While Rhode Island has been praised in the past for its success with COVID-19 testing, the state has, like most other U.S. states, experienced difficulties meeting testing demand amid the recent uptick in cases and as residents sought to confirm whether they had the virus or not before gathering with friends and family over the holidays.
On Thursday, McKee said the state was adding more than 3,000 testing appointments to its New Year's Day calendar, which his office said was part of his new directive to keep testing sites open over the holiday. The added appointments will be available at seven sites around the state.
McKee also said Thursday the Rhode Island Convention Center will be reopening as a mass vaccination and testing destination starting the week of January 10.
State data last updated on Thursday said Rhode Island had high virus transmission, with about 7.2 percent of all COVID-19 tests taken by residents in the last week coming back positive. That number represents an increase of about 1 percent over the prior week, the data showed.
Rhode Island set a new single-day record for new confirmed cases earlier this week.
Just over 78 percent of the state's residents have completed their initial series of COVID-19 vaccinations, according to data from the Rhode Island Department of Health. An estimated 27.8 percent of the state's residents have also already received a booster shot.