Police Respond to Report of Person Dining Indoors Illegally Only to Discover a Mannequin
Restaurateur Mike Cormier, who owns the Halifax, Nova Scotia-based Ardmore Tea Room, was working alone on Thursday morning when he saw a squad car pull up outside. But the cops weren't there to fill up on pancakes and French toast slices; they were there to investigate an alleged crime.
Earlier that day, a resident of the Canadian city had called the police to report that the Tea Room was serving patrons indoors in flagrant violation of provincial COVID-19 guidelines. In a statement, Halifax Regional Police spokesperson John MacLeod confirmed that the call had been about "individuals not following public health directives," according to Global News.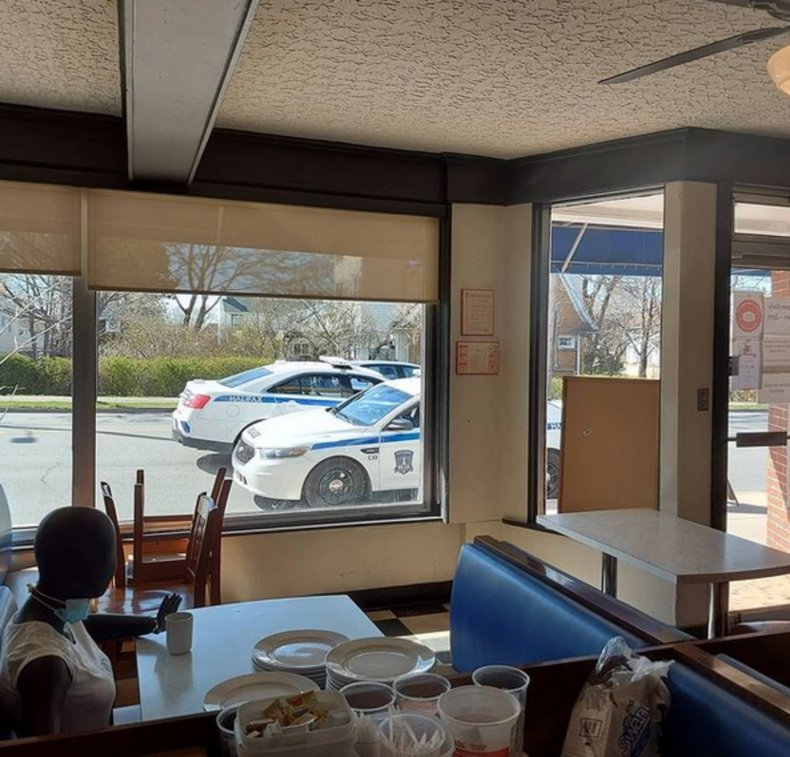 On April 28, Nova Scotia, which has seen a recent surge in coronavirus cases, entered lockdown for a third time, causing all non-essential retail establishments, including the Tea Room, to close or limit their services to takeout and delivery. People who defy the new guidelines can be fined as much as $2,000, according to a province press release.
But Cormier wasn't one of them, as the cops who had been sent to investigate soon realized. The suspected patron was none other than a mannequin wearing a blue mask and a white T-shirt. Back when indoor dining was still permissible, Cormier had seated the life-sized figurines at several tables to maintain a distance of six feet between customers.
"[The mannequins] are just here...for fun, right? Because it's been a long year," Cormier told the Canadian Broadcasting Corporation (CBC).
The cops went on their way without entering the Tea Room, but the incident prompted Cormier to issue a plea on social media.
"Please don't call the police on us. We are only open for takeout and delivery. No eat in, she's a mannequin to help with social distancing," he wrote, adding the hashtags #halifaxfoodnoise, #takeout, #breakfast, and #mannequin.
While Cormier told Global News that he's sympathetic to the impulse to safeguard public health, would-be do-gooders should make sure that they have all the facts first.
"It could have been a staff member sitting at the table," he said. "So before you call the police and waste their resources, be sure of what you're doing."
However, there's a silver lining to every cloud. Thanks to the popularity of the Instagram post, which has more than 1,000 likes, Cormier's mannequins have become famous.
"I'll probably auction them off and give all the proceeds to the food bank when this is done," he told CBC.