Authorities in charge of the investigation into how a car ended up in the river leading up to Niagara Falls Wednesday said the car was likely driven into the water intentionally.
A woman in her late 60s, who authorities said lived in the area but has not been officially identified yet, was seen in her car where witnesses reported it floating in the river near a pedestrian bridge.
The New York State Park Police said "entry into the water appears to be an intentional act," an official cause of death is yet to be determined, and the investigation is ongoing.
The park police were unable to reach the car, so a Coast Guard helicopter was called to the scene, where a swimmer was lowered to the vehicle that was partially submerged in the river, stuck on rocks about 50 yards away from the edge of the falls.
The helicopter was originally conducting a training mission at Lake St. Clair in Michigan when the call was made, and the crew flew through snow that limited their visibility to about half a mile.
"At one point we were literally just flying down a street because we saw the road and we were trying to avoid the windmill farm that's just west of Niagara," the pilot, Lt. Chris Monacelli said. "So we're flying the road as these gigantic windmills are popping up like a half-mile away from us."
Petty Officer 2nd Class Derrian Duryea was lowered 80 feet below the helicopter through snow and strong winds, where he entered through the unlocked passenger door of the car.
"The current was ripping pretty good through there and the car was close to the edge of the falls. If it moved, we didn't want him getting dragged out with it," the onboard mechanic Jon Finnerty said.
About two minutes later, Duryea left the vehicle with the unconscious woman alongside him and signaled for the helicopter to lift them back up.
Authorities said the woman was dead before the Coast Guard reached the vehicle.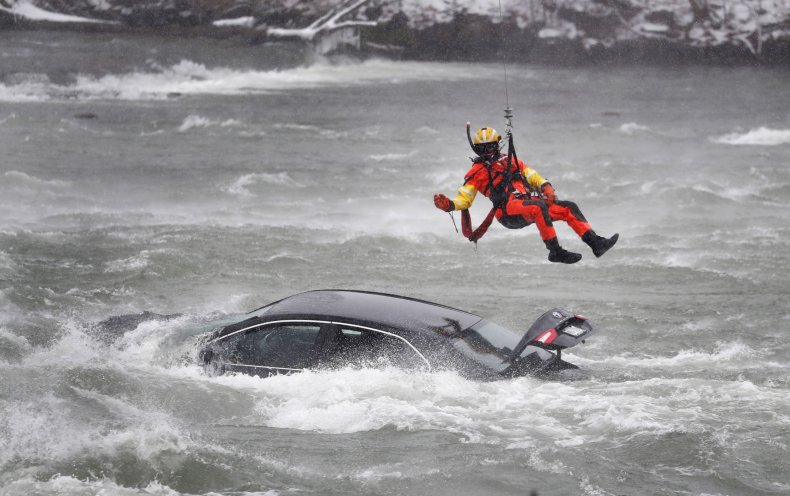 At the time, the sedan was stuck on rocks but was perilously close to going over the brink of the American Falls, one of three waterfalls that make up Niagara Falls.
As of Thursday, the car remained mostly submerged in fast-moving water about 50 yards (45 meters) upstream from the edge of the waterfall. Officials were trying to determine how it could be taken out.
The Associated Press contributed to this report.