Police Say Detaining Person of Interest in Miya Marcano Case 'Wouldn't Have Prevented' Death
The Orange County Sheriff's Office is facing public criticism for failing to seriously investigate 19-year-old Miya Marcano's disappearance after footage of police investigating her suspected killer was released.
But Sheriff John Mina said that even if police had detained Armando Caballero after their initial interview, it "wouldn't have prevented anything" because he had "already left [Miya] dead."
Marcano's body was identified by police at Tymber Skan apartments in Orlando eight days after she went missing. The young woman was supposed to travel to visit family in south Florida on September 24 but never boarded the plane.
Her mother called the police the same evening, around 9:23 p.m., to request a wellness check and a deputy arrived at Arden Villas apartments around 10:02 p.m. that same night.
At 1:36 a.m. on September 25, Marcano was entered as a missing person into the police system. Police met with Marcano's family at the apartment complex where she lived and worked around 4:54 a.m.
Marcano's family has since released video footage showing a deputy speaking with Caballero around the same time. In the clip, Marcano's family is heard confronting the man over statements he made and his "obsession" with Marcano.
At the time, Caballero, who worked as a maintenance man at the same complex as Marcano, was not determined to be a person of interest and was released.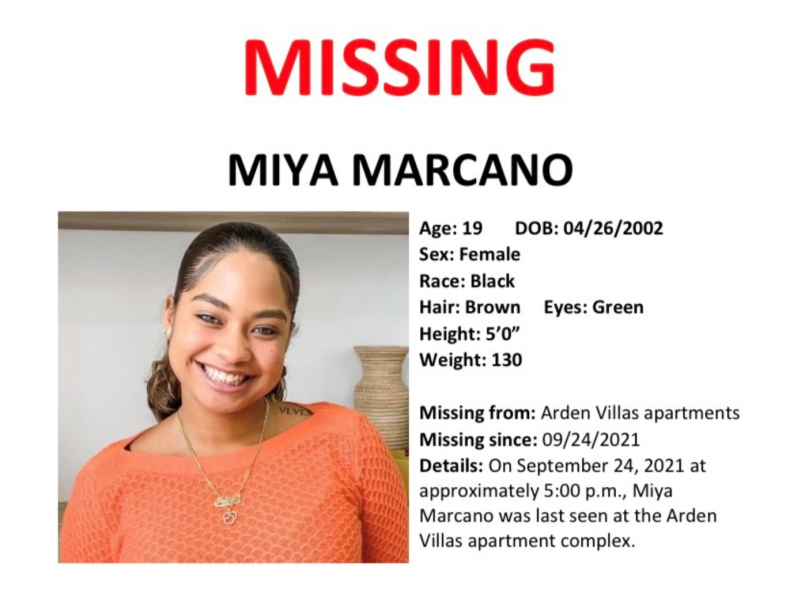 "There was no basis for our deputies to detain or arrest Armando Caballero," Mina said during a Wednesday press conference. "Our deputies are not permitted to arrest or detain someone based on a hunch or based on what someone else is saying. Instead, they must establish facts to justify such a detention."
Marcano's family argued that Caballero was off work and had no reason to be at the apartment complex.
A few hours later, Marcano's family reported that Caballero was seen outside of his apartment with a glove, backpack and pink blanket that they believed belonged to the missing woman. Shortly after, her family was able to look through Caballero's home with his permission and the help of police, according to a police timeline provided to Newsweek.
Around 3 p.m., Caballero left his apartment and was seen for the last time. An hour and a half later, police classified him as a suspect in Marcano's disappearance and secured a search warrant for his apartment.
The next day, Caballero was found dead by suicide in Seminole County. Police were still hoping to locate Marcano alive.
Law enforcement was able to use Cabellero's cell phone data which placed him near Tymber Skan apartments for about 20 minutes. Authorities later discovered Marcano's body in the woods.
She was found with black duct tape around her feet, hands and mouth and her purse was located nearby. Police do not believe she was sexually assaulted and her cause of death has not been released.
While the public and Marcano's family have criticized officers' response to the case and their failure to initially arrest Caballero, Mina said that police did everything they could.
Mina said that sadly, arresting Caballero after an initial interview would not have changed the outcome of the case because authorities believe he left Marcano's body at Tymber Skan apartments between 8 and 9 p.m. the night before the video was taken.
"That was a full eight hours before the video was taken and actually it was before the sheriff's office was even called," he stated.
The Orange County Sheriff's Office is continuing to investigate the details that led up to Marcano's disappearance and death, as well as if there's anything police could have done differently.
"The two people with the most answers are not with us," Mina said.