Police announced Monday the conclusion of their three-day search of the last-known residence of Harmony Montgomery, a New Hampshire girl who went missing in 2019 at age 5, and provided no other new information.
Montgomery's father and stepmother, 31-year-olds Adam and Kayla Montgomery, were arrested last week on charges relating to the child's safety and welfare fraud, respectively.
The then-5-year-old was last seen in late 2019 when Kayla Montgomery says the girl's father was taking her to Massachusetts to stay with her mother, Crystal Sorey, who was the one to report her missing in November 2021.
Sorey reportedly told police at first she hadn't seen her daughter in at least six months and eventually said the last time she saw her was around Easter 2019, when she spoke to Adam and Harmony Montgomery via video chat.
The attorney general's office said in a news release that police had finished their three-day search Monday that began Saturday, but said no other information could be released because it is an ongoing investigation.
Adam Montgomery was arrested last Jan. 5 on charges over Harmony's well-being, alleging he was not aware of the child's whereabouts and did not have her in his custody for over two years after he was allegedly one of the last people to see her alive.
Harmony's great uncle reportedly told police he saw Harmony in July 2019 with a black eye, and said Adam Montgomery told him he had hit the girl after she put her hand over her brother's mouth to stop him from crying. The man said he notified New Hampshire Child Protective Services.
Kayla Montgomery was charged with welfare fraud, alleging she continued to apply for and receive food stamps meant to be used to care for Harmony from December 2019 to June 2021, when the girl was not living at the home.
She reportedly told police she thought the girl was with her birth mother, but continued to receive the food stamps until June when she notified a welfare caseworker that Harmony had moved back with her birth mother.
The caseworker reportedly told police that Kayla Montgomery seemed confused over whether she could claim Harmony when she was living in the home because she lived partially with herself and Adam Montgomery and partially with her birth mother.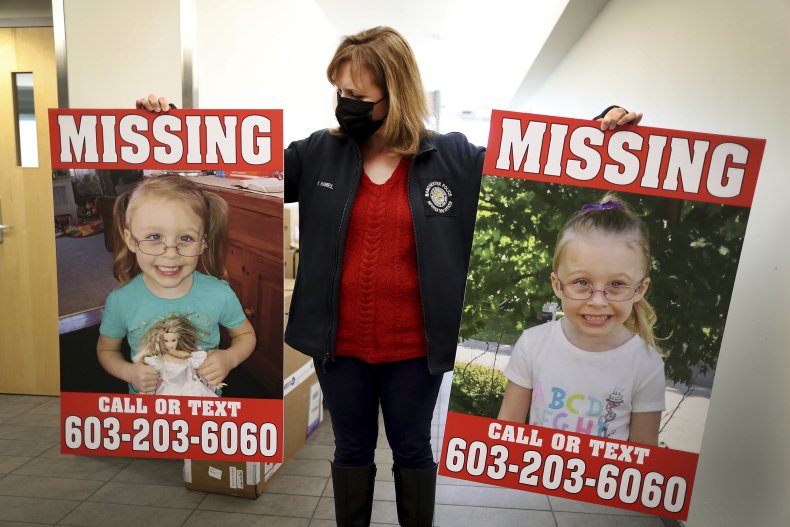 The two have pleaded not guilty.
Police are still requesting help from the public in locating Harmony. Anyone with information can call 603-203-6060, he said. Manchester police have also said a reward for information that helps find Harmony has also grown to $94,000. Harmony's great-uncle also started a fundraising effort.
The Associated Press contributed to this report.