Police Search for California Woman Who 'Purposely' Coughed on Baby
San Jose Police are asking the public to help identify a woman who was caught on CCTV coughing on a 1-year-old child at a Yogurtland store on Cottle Road in Edenvale on Friday.
Mireya Mora, the mother of the baby, told KGO-TV: "She did it on purpose it's not like she did it on accident, oh cough, cough - no she purposely coughed on my son's face."
Mora said the so-far unidentified woman coughed intentionally because the woman believed Mora and her son were too close in line. Mora also believes the 'attack' could be racially motivated.
"I believe this woman may be racist because the family in front of her is white. Me and my grandma are Hispanic and she started telling me about my distance and harassing me and my son once I started speaking Spanish to my grandma."
In CCTV footage released by police, it's clear to see the woman dressed in all white walk over to the stroller, take off her mask, and cough onto the child, before the mother quickly pulls down the cover on her stroller to protect her baby.
"It happened so quick I was in shock. She got close, she took off her mask, and she coughed three times super hard on my son's face," said Mora.
Mora claimed her son did have a fever after the incident, but that the fever has now passed. Mora is concerned about her son contracting COVID-19.
"Do you recognize this assault suspect?" wrote the San Jose Police Department on its video post. Anyone with information about the incident at Yogurtland should contact the San Jose Police Department's Assaults Unit on 408-277-4161 and quote Case #20-164-0617.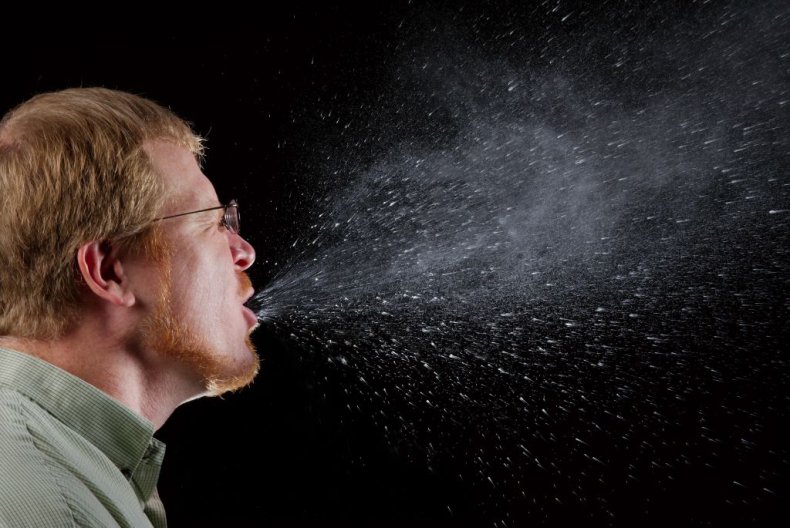 Coughing on someone to deliberately to expose them to an illness is considered a serious offence. Suspects have recently been charged with assault, obstruction, harassment and even terrorism in some cases for coughing with the intention of spreading coronavirus.
Authorities in New Jersey and Pennsylvania made arrests in March of people who allegedly coughed on members of the public in stores while claiming they had coronavirus. In April, a man who allegedly coughed on shoppers in a Tennessee Walmart was arrested and charged with violating the terrorism hoax act.
District Attorney General Matthew Stowe said the man's behavior in Tennessee was an act of terrorism. "What might have been a joke to one person, became a frightening threat to several others," he said. "A violation of this sort where the agent is indeed an active agent is an act of terrorism and a Class A felony; violation for the hoax of spreading is a Class C felony," Stowe commented.
The United States' Attorney General Jeffrey A. Rosen wrote in a memorandum to federal law enforcement officials in March that coronavirus "appears to meet the statutory definition of a 'biological agent'" meaning those intentionally transmitting the disease could in theory be charged with conducting an act of terrorism.
Newsweek has contacted San Jose Police Department for further information and updates on the recent incident in California.