Man Smashed Bowling Ball on Bowling Alley Employee's Head, Police Search for Suspect
Police are searching for a suspect who viciously attacked a bowling alley employee by smashing a bowling ball on the employee's head.
The Roseville Police Department said the attack happened at 11:45 a.m. at Apollo Lanes in Roseville, Michigan on October 10. A group of people were at the establishment bowling when the group "became unruly and began creating a disturbance and were asked to leave by an employee," according to authorities.
Several of the group members surrounded the counter where the 28-year-old bowling alley employee was standing, authorities said. In a surveillance video posted by the police department, one man in the group was seen reaching over the counter and punching the employee. Another man from the group steps behind the counter and began to punch the employee in the face and on his body, police said.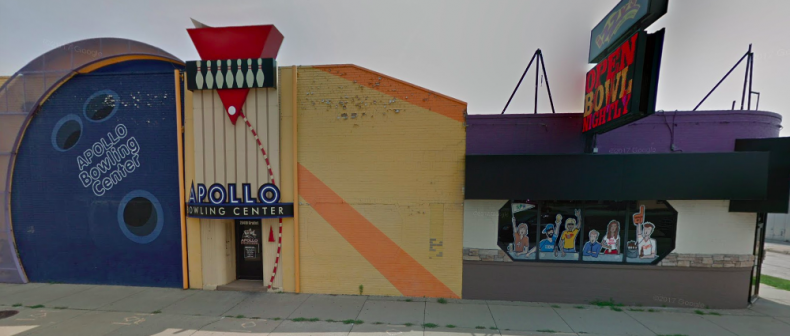 In the video, the first suspect can be seen walking behind the counter and striking the victim with a bar stool on the head. He then picked up a bowling ball and hit the employee on the back of the head, police said. The victim was taken to the hospital to tend to his injuries, according to police.
Police told The Atlanta Journal Constitution that they have identified one of the suspects, but are still looking for the second suspect. The first suspect is described as a black male in his early 20s, 200 pounds with a close-shaven beard and tattoos on his arms, police said. The suspect was wearing a black baseball cap, a black, short-sleeved shirt over a white T-shirt and black jeans, according to police.
Newsweek has reached out to the Roseville Police Department for an update on the incident but did not hear back in time for publication.
On their Facebook post, police encouraged those who have information on identifying the second suspect to call 586-447-4510 or the front desk of the department at 586 447-4484 with the Roseville incident number 18-29003.
A similar incident occurred in August at a McDonald's in an unknown location after two employees physically fought a customer for trying to fill a free water cup with soda from the soda machine.
Marie Dayag posted the video of the incident on Facebook and explained that she was at McDonald's when the customer, dressed in grey shorts and a black shirt, asked for a water cup. The customer filled her cup with soda when the restaurant's supervisor allegedly shut down the machine. The customer throws what appears to be a milkshake when the fight breaks out.