Police are conducting a multi-state search for a man suspected of robbing churches of tens of thousands of dollars' worth of equipment while wearing a 'Batman' mask.
WBRC reported that the cowled robber's most recent target was Grace Chapel Church in Cullman, Alabama. Police believe that between January 5 and 7, someone used a large rock to break into the building and made off with musical instruments and computer equipment.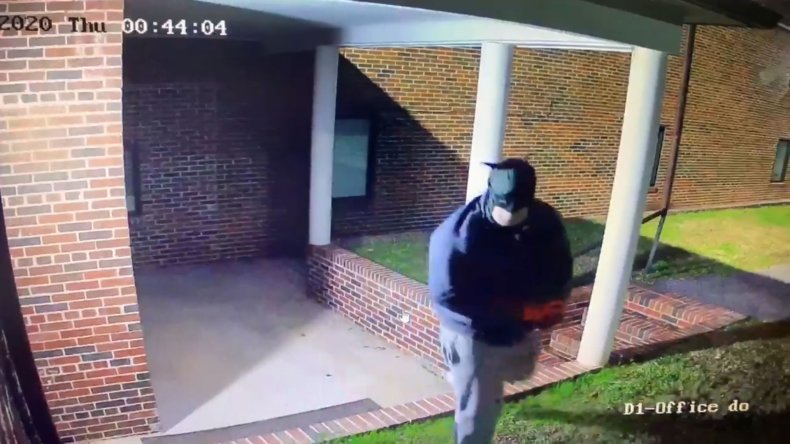 Including damage to the building, the total loss to Grace Chapel was $16,000.
Cullman Police Detective Sgt. Charles Shikle said that the incident appeared to be a crime of opportunity: "You know, churches, it's sacred ground but a lot of criminals they don't really care."
The 'Batman'-masked robber, however, appears to be carving out a niche for himself by knocking over houses of worship. In Irondale, about an hour's drive from Cullman, the Kings Way Church on Crescent Road was broken into using similar methods during the same time frame.
That was the second break-in at Kings Way since December. In the first instance, the suspect took a keyboard and a guitar. On his return visit, he left with two more guitars, according to the Cullman Times.
Those thefts join two other crimes in Jasper, Alabama with the same modus operandi. Police believe that the same man is responsible for all of the church robberies, plus additional cases in Georgia and Tennessee.
The Jasper Police Department posted on Facebook surveillance video of the suspect as he prepared to enter one of the churches.
In the clip, the robber can be seen lying on the ground beneath a short brick wall. He rises to his feet, exposing his underwear sticking out over the back of his pants, and approaches the security camera before the video cuts out.
Commenters on the social media post asked that the police release a list of the musical instruments taken so they could keep an eye on local pawn shops and other places.
According to WBRC, the cameras at Grace Chapel were not functional, as the church had only recently moved into the new space. However, police feel confident in their description of the suspect as a large African-American man, typically wearing dark clothes, gloves and a full-face superhero mask.
Investigators believe the suspect drives a light colored Hyundai in lieu of a Batmobile.
Irondale Detective Sergeant Michael Mangina told the Cullman Times that tracking the man down is a priority. "We have to take this bad guy off the streets. Stealing from a church is not the way to get to Heaven," he said.