Police Seize Bright Orange Trump-Shaped Ecstasy Pills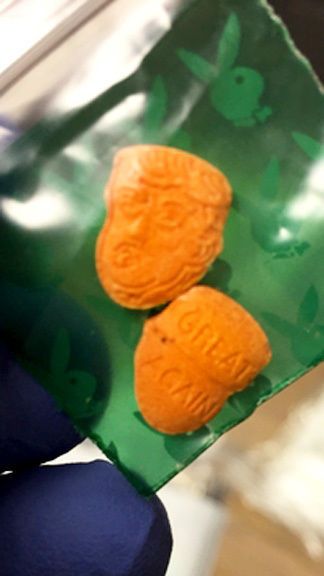 Donald Trump's name has been used to sell goods ranging from ties to luxury golf resorts.
But it seems drug dealers are now seeking to exploit the president's fame, with a batch of bright orange ecstasy pills shaped into the image of the president seized by Idaho police.
In a press release, Indiana State Police described seizing a batch of "Trump-shaped ecstasy pills" with the words "great again" on the back, a seeming reference to Trump's 'Make America Great Again' slogan.
Drug dealers will sometimes shape ecstasy pills into new designs to attract repeat customers. U.S. dealers aren't the only ones using the president's image.
Last August, police in Osnabrück, Germany, found 5,000 ecstasy pills of a similar design to those seized in Indiana after stopping a 51-year-old man and his 17-year-old son in a routine traffic stop.The pair were reportedly returning from the Netherlands, where they had picked up the orange contraband.
Indiana police didn't say how many Trump-shaped pills they seized.
The drugs were found as part of a six-day operation that also saw LSD, methamphetamine and other drugs seized in traffic stops by city and state police, as well as sheriffs' departments.
The goal of Operation Blue Anvil was to enforce traffic laws and catch motorists transporting illegal drugs through the state, reported WTHR. As part of the operation, police made 129 arrests on 300 criminal charges.