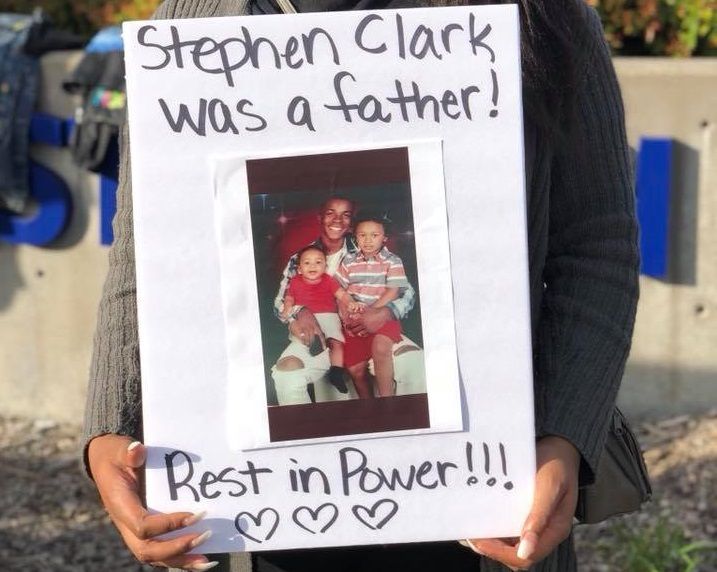 Updated | Stephon Clark was in his own backyard armed with nothing more than a cellphone when Sacramento police officers shot and killed the 22-year-old on Sunday.
Clark, a father of two, was pronounced dead at the scene after two officers fired multiple shots at him while responding to a 911 call reporting a man breaking into parked vehicles in the neighborhood, the Sacramento Police Department (SPD) said.
The 911 caller had told police the suspect was breaking car windows and had been hiding in a backyard. The Sacramento Sheriff's Department's helicopter team (STAR) also responded to the call, telling police they had spotted the suspect pick up a toolbar and break a window to a residence before running into the backyard of another home, which would turn out to be his own.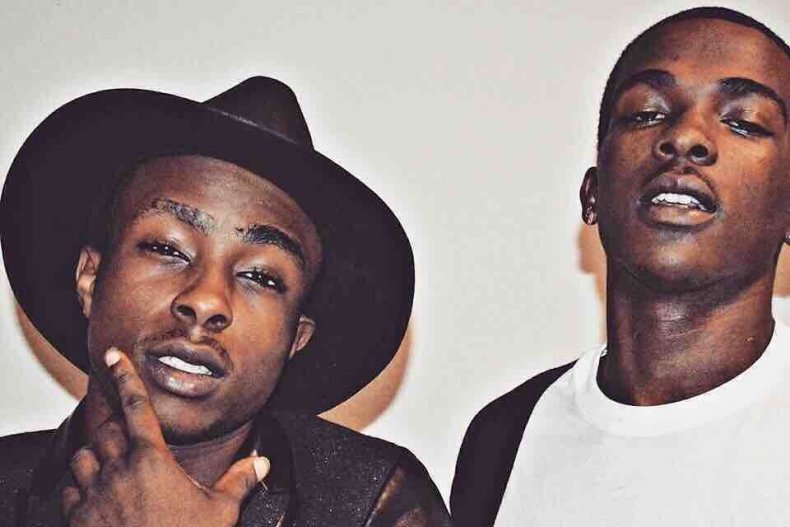 The SPD said in a statement that its officers followed STAR's directions to find Clark standing at the side of his house. They said the 22-year-old fled when they gave him commands to stop and show his hands, running into the backyard.
When officers caught up with Clark, police said he turned toward them while holding an object "extended in front of him."
Video released by the SPD shows one of the officers shouting "show me your hands," and then warning of a "gun" before firing several shots at Clark.
"The officers believed the suspect was pointing a firearm at them," the SPD said. "Fearing for their safety, the officers fired their duty weapons striking the suspect multiple times." The department said the officers "held their position" for as long as five minutes to wait for additional officers before handcuffing Clark and then performing "life-saving efforts."
Clark was pronounced dead at the scene by fire personnel, the SPD said. No weapon was found near his body—only his cellphone, police confirmed to the Sacramento Bee.
Stevante Clark, one of the victim's brothers, told Newsweek that police did not immediately inform them that Stephon had been killed outside their home.
Stevante said his grandmother had heard shots being fired, but thought they were fireworks at first. When police came to her door to tell her there had been a "crime scene" outside her home, they told her not to look at the window, he said.
"She looked out the window anyway and saw him. She looked straight at the cops and she said 'you all murdered him'," Stevante said, adding: "The thing I keep thinking about is that it could have been me, just trying to get into my grandma's house."
Black Lives Matter Sacramento has condemned the SPD over their "deadly failure to keep us protected and served."
The activist group held a rally demanding justice for Clark's family, holding up posters showing Stephon with his two young sons.
Bernice King, the daughter of civil rights leaders Martin Luther King Jr. and Coretta Scott King, also joined calls for justice, writing on Twitter: "Stephon Clark, 22, killed by police while holding a cellphone."
"Human flesh and blood. Born with a purpose. Some will try to reason; there is no humane reason. This continues to happen because for hundreds of years, the soul and sentiment of America have denied that," King wrote, adding the hashtag "#BlackLivesMatter."
Read more: U.S. Police Shootings Reflect Structural Racism Across States, Study Finds
Stevante, who works as a security guard, said he believes police reform is needed to address bias in law enforcement.
"I don't want to say there's just a few bad apples, because a bad apple might end up killing you," he said. "We need reform."
The 25-year-old described his brother as a "people person" who "everybody wanted to be around." He said Clark mostly worked from home selling things online and winning money through video games while he looked after his two children.
"You know, we came from underprivleged broken homes," Stevante said. "But he didn't care about nothing else but his kids."
Clark's girlfriend, Salena Manni, told ABC10 she has struggled to explain to the couple's two sons, Aiden and Cairo, that their father is gone.
"I have to wake up every morning to my kids asking me 'where's daddy, let's go get daddy'," Manni said. "I just tell them, 'daddy's always going to be with us, daddy's in our hearts always and forever. He's always going to be with us. Don't forget that."
Manni said she and Clark, who she called by his nickname "Zoe" and described as the love of her life, had been together for five years before his life was cut short on Sunday.
A spokesperson for the SPD called Clark's death a "tragedy" at a press conference held less than 48 hours after the incident and live-streamed by BLM on Facebook.
"Any time there is a loss of life in our city it is tragic for the family, for our community and our department," the SPD spokesperson said. "No matter what a person's opinion is of this incident after all the facts are known, it still remains a fact that it's a tragedy that a young man lost his life in our city. Our thoughts and prayers are with the family as they go through this difficult time."
Sacramento police said the two officers involved in the incident, who have not been identified, have two and four years with the department, adding that both had four years of prior law enforcement experience with other agencies before joining the SPD.
Both officers were placed on paid administrative leave after the incident, as per the SPD's policy.
This article has been updated with footage released by the Sacramento Police Department on Wednesday.