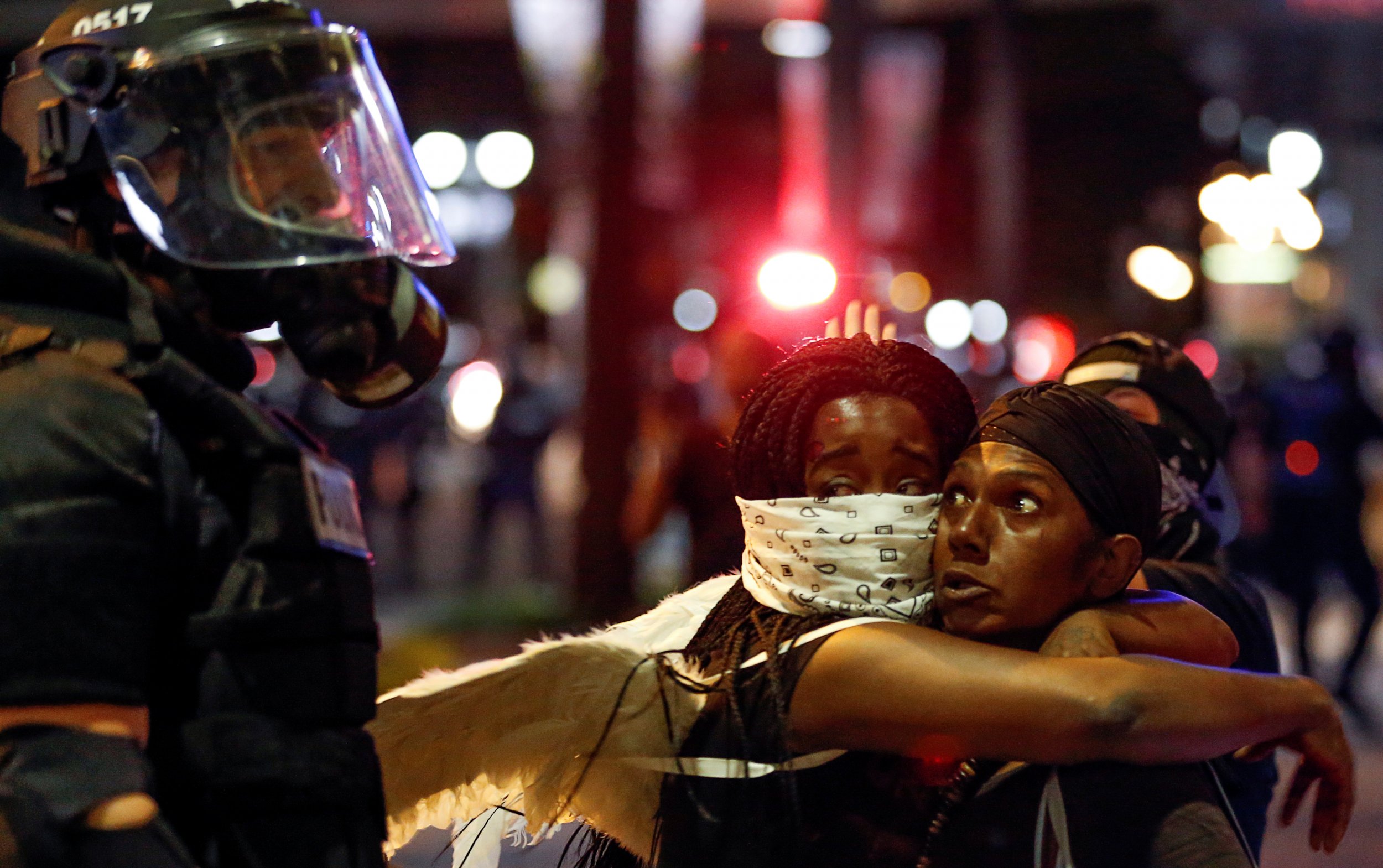 On Monday afternoon, in the small city of Euclid, Ohio, a young African-American man was in tears as he spoke to reporters. He was one of three relatives of Luke O. Stewart, a 23-year-old man shot and killed by a police officer on March 13. "They tell us nothing, they just kill my brother and say nothing," the young man—Stewart's brother, Cleander—said, holding his head in his hands. "It makes no sense at all."
City officials have released body camera footage from after the shooting, as well as police dispatch audio in which a second officer tells the dispatcher that Stewart tried to run them over. Ohio's bureau of criminal investigation has also confirmed that Stewart was unarmed, but that he may have tried to use his car as a weapon. Following a period of paid leave, the officer who shot him, Matthew Rhodes, returned to work on March 25.
Across the U.S., African-Americans have mirrored Cleander Stewart's grief at rallies, press conferences and funerals for the victims of police shootings. In this year alone, the Washington Post 's fatal force database has recorded the deaths of 267 people, of which 63—24 percent—were black. (Black people make up just 13 percent of the U.S. population.)
The disproportionate deaths of black people, which is clear from the beginning of the Post's database in 2015, has prompted widespread protests across the U.S. Under pressure from groups like Black Lives Matter, former President Barack Obama ordered reviews into nearly two dozen police departments. The result: 14 consent decrees—legal agreements between the Department of Justice and various police forces, including those in Cleveland and Warren in Ohio, to help improve relations between the police and minority communities. Race rights groups welcomed the reforms. And then President Donald Trump was inaugurated.
Read more: Why do American cops kill more people than in other countries?
On Monday, the Department of Justice published a memo from Attorney General Jeff Sessions. In the document, Sessions directed acting Deputy Attorney General Dana Boente and the associate attorney general (who is yet to be appointed) to review all justice department activities, including "existing or contemplated consent decrees."
The pair, Sessions wrote, will check the decrees to make sure they "fully and effectively" promote eight principles that he listed higher up in the memo. Among the bullet-pointed list are two conditions that have troubled police reform campaigners. "It is not the responsibility of the federal government to manage non-federal law enforcement agencies," one principle reads. Another states: "The misdeeds of individual bad actors should not impugn or undermine the legitimate and honorable work law enforcement officers and agencies perform in keeping American communities safe."
Together, the principles indicate that the justice department will refrain from criticizing local police forces, or intervening in their operations. It is part of the Trump administration's so-called Blue Lives Matter policies which focuses on protecting U.S. police forces and getting tough on crime.
Sessions's memo also echoes the sentiment of his first speech as attorney-general. On February 28, he told the National Association of Attorneys General that the justice department would "try to pull back" on Obama administration attempts to oversee local law enforcement agencies. "One of the big things out there that's, I think, causing trouble and where you see the greatest increase in violence and murders in cities is somehow, some way, we undermine the respect for our police and made, oftentimes, their job more difficult," Sessions added.
He's moved quickly to put his words into action. On Monday, Sessions turned his sights to the city of Baltimore, Maryland. On August 10, the city was the subject of a deeply critical report from the justice department, which found widespread racial bias, discrimination toward women and LGBTQ people, unconstitutional arrests and excessive use of force within the Baltimore police department. This was also the institution responsible for the 2015 death of Freddie Gray, which sparked protests across the city.
The report led to Baltimore and the Obama administration signing a 227-page consent decree on January 12—eight days before Trump took office. The document, which was the product of five months of negotiations, called for police education on implicit racial bias; creation of a five-member civilian task force to oversee police; and for officers to use de-escalation tactics before resorting to violence.
On Monday, following publication of Sessions's memo, the justice department went to the U.S. District Court in Baltimore and requested a 90-day delay in implementing the decree. Shortly after, Baltimore's mayor, Catherine E. Pugh, said on Monday that she would "strongly oppose any delay in moving forward" with the agreement. It is not yet clear whether Sessions can withdraw from the decree completely, especially since a judge has not yet approved it. Vanita Gupta, an Obama administration official who helped negotiate the Baltimore agreement, tweeted : "Sessions is out of synch with law enforcement. [The consent decree] will build back trust vital to effective public safety and [constitutional] policing in Baltimore."
Pugh and Gupta are not the only officials to express concern. The mayor of Chicago, Rahm Emanuel, and the city's police superintendent, Eddie Johnson, are also worried about what Sessions's memo means for them.
On January 13, the justice department, still under President Obama, had delivered them a lengthy report that was as scathing as the one it sent Baltimore. The report again found excessive use of deadly force, racial bias and a lack of investigation into police misconduct. Now Chicagoans are concerned that Sessions— who has said he hasn't read the full report —will abandon federal attempts to push for reform.
In response, Emanuel and Johnson tweeted a joint statement on Tuesday reiterating their commitment to improving Chicago's police department. Despite their prompt words, many are not reassured. Speaking to the Chicago Tribune, Craig Futterman, a police critic and law professor at the University of Chicago, said: "Change won't occur in Chicago unless there is external pressure to do so. The city lacks a combination of the will and the ability…to address those civil rights violations on their own."
Futterman's doubt will likely be felt across the 20 other areas where the justice department was enforcing consent decrees. Should Sessions's team try to overturn these agreements, campaigners' last hope will be for the courts to save them.