Police Killed More Than 1,100 People This Year and a Quarter of Them Were Black
Police in the U.S. killed 1,129 people so far in 2017, and a quarter of those killed were black—even though they comprise just 13 percent of the population, according to a new report.
In addition to being 25 percent of the victims, black people are also three times as likely to be killed by police as white people, according to the report, "Mapping Police Violence," which was released Thursday.
"Today is an important day to remind you that police violence is far from over," tweeted one of the report's creators, Brittany Packnett.
Social justice activist DeRay Mckesson, who also helped write the report, added, "Our analysis suggests these killings could have been prevented."
Americans are more likely to be killed by police in certain parts of the country, with police in some large cities killing black men more often than the national murder rate. Black Oklahomans, for example, are seven times more likely to be killed by police than their counterparts in Georgia, the report found.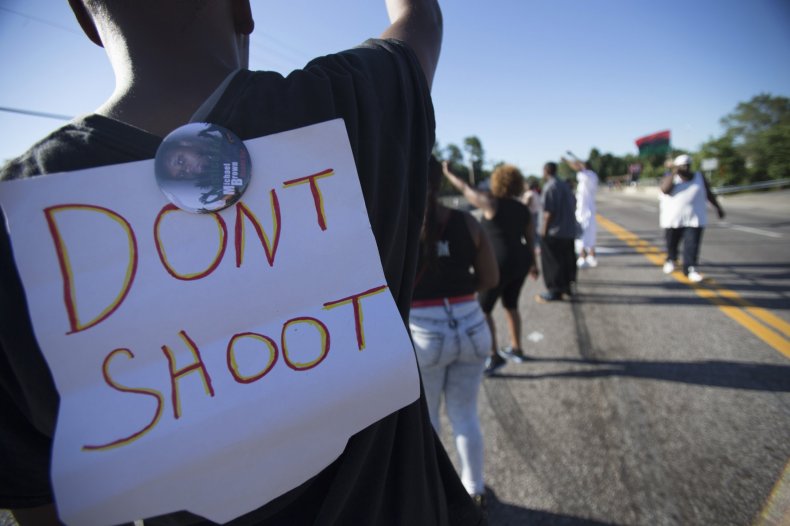 The number of police killings were also unrelated to the rate of violent crime in a city. For example, Detroit has a high rate of violent crime but few police killings, while Oklahoma City has less violent crime but a higher rate of police killings.
Police departments that have adopted certain policies have reduced the number of people they kill, but few departments have made such reforms. New policies like requiring officers to exhaust all other means before shooting or requiring all officers to report all use of force can reduce police killings by 25 percent, the report states.
Mckesson gained national attention documenting the protests in Ferguson, Missouri, in 2014 after a white police officer there shot and killed a black teenager named Michael Brown. The protests sparked a national conversation about police killings that has continued in recent years.
The team that compiled the report also included activist and data scientist Samuel Sinyangwe.
"Mapping Police Violence" defined a police killing as "a case where a person dies as a result of being chased, beaten, arrested, restrained, shot, pepper sprayed, Tasered, or otherwise harmed by police officers, whether on-duty or off-duty, intentional or accidental."
The Washington Post keeps a running tally of people who have been shot and killed by police this year. As of Friday, that number was 971.