Police Shut Down Area Near San Jose Shooter Sam Cassidy's Home to Detonate Explosives
The FBI and local police are reportedly shutting down streets surrounding the home of Sam Cassidy, the suspected San Jose, California, shooter, to detonate possible explosives found inside the house.
Cassidy's home, located on the 1100 block of Angmar Court in San Jose, has been under investigation since the 57-year-old committed a mass shooting at the Valley Transportation Authority (VTA) on Wednesday. According to police, Cassidy killed a total of nine people, before turning the gun on himself.
San Jose police told KRON-TV that they are now shutting down the area near Cassidy's home to detonate explosives, the news outlet reported Friday. Cassidy's home is also being investigated by the FBI, the Bureau of Alcohol, Tobacco, Firearms and Explosives and the San Jose Fire Department.
Newsweek contacted San Jose police for additional comment.
The 57-year-old shooter arrived at the VTA Wednesday carrying a duffel bag containing two semi-automatic handguns and 11 high-capacity magazines. Cassidy, who worked at the VTA since at least 2012, fired 39 shots at the light rail yard facility before he died of a self-inflicted gun wound.
Eight victims were initially identified by the Santa Clara County medical examiner's office on Wednesday. A ninth victim was pronounced dead later that day after being transported to the Santa Clara Valley Medical Center in critical condition.
The medical examiner's office identified the victims as Paul Delacruz Megia, 42; Taptejdeep Singh, 36; Adrian Balleza, 29; Jose Dejesus Hernandez III, 35; Timothy Michael Romo, 49; Michael Joseph Rudometkin, 40; Abdolvahab Alaghmandan, 63; Lars Kepler Lane, 63; and Alex Ward Fritch, 49.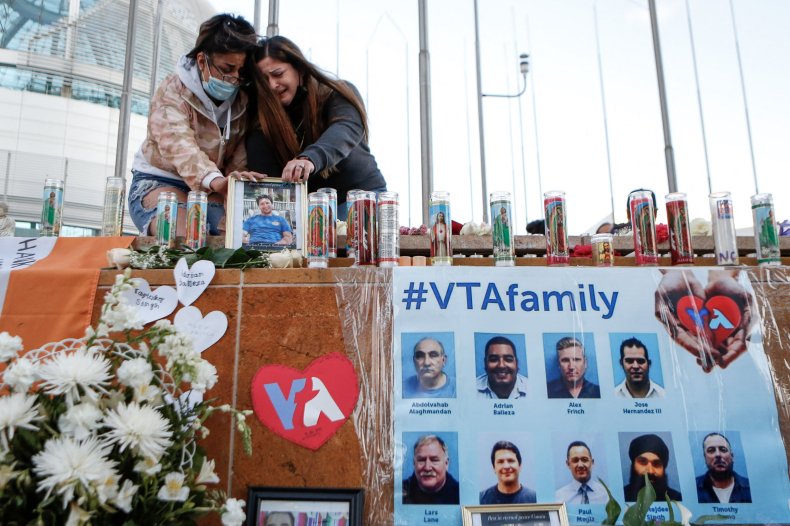 Around the same time that Cassidy began shooting victims at the VTA, his home caught on fire. Police said they believed Cassidy used some type of timed device to spark the flame.
Though police have yet to identify a motive for the shooting, investigations have revealed that Cassidy had a long history of anger issues and hostility toward his workplace. According to authorities, Cassidy expressed his hatred toward the VTA when he was detained by U.S. customs officials in 2016 after a trip to the Philippines five years ago.
At that time, officers found a black memo book filled with notes about hating the VTA, along with books about terrorism and fear, CNN reported.
Cassidy's ex-wife, Cecilia Nelms, also said that Cassidy previously told her he wanted to kill people at his job.
"I never believed him, and it never happened. Until now," Nelms said, the Associated Press first reported.
Court documents have also shown that Cassidy's ex-girlfriend alleged in 2009 that the suspected shooter exhibited "major mood swings" and sexually "forced himself" on her throughout their relationship. Neighbors of Cassidy have further testified that the 57-year-old exhibited "strange" behavior and largely kept to himself.
On Thursday, Santa Clara County Sheriff Laurie Smith said Cassidy told at least one person during that shooting that he would not kill them, suggesting that those he targeted may have been premeditated.
"I imagine there was some kind of thought on who he wanted to shoot," Smith said. "I'm not sure we'll ever actually find the real motive, but we'll piece it together as much as we can from witnesses."
Several elected officials have offered their condolences for the victims and families affected by the mass shooting, including President Joe Biden, who has ordered that all flags be flown at half-staff until Sunday to honor the victims.