Spanish police have broken up a transatlantic sex trafficking operation that coerced victims into prostitution with drugs, violence and even threats of black magic.
Officers rescued 15 young Brazilian transsexuals in the city of Murcia, around 200 miles southeast of the capital Madrid, the BBC reported. According to police, all had been tricked into travelling to Spain before being forced into a life of abuse and crime.
Once in Murcia, the victims were made to sell drugs and work as prostitutes to earn back the money spent bringing them to Europe, explained a police statement released Thursday. They were also forced to consume drugs and locked in an apartment while being "subjected to continuous serious threats and even physical aggressions."
Investigators believe that items related to black magic and the Santeria religion were confiscated by the traffickers and used "to coerce" the victims into following orders.
Santeria—meaning "worship of saints" in Spanish—is an Afro-American religion that developed in the Spanish Empire among those of West African descent. Though it draws on elements of Catholicism, the faith emerged from the Yoruba community in the region currently covered by modern-day Nigeria, Togo and Benin, BBC reports.
It is a highly ritualistic religion, believing in animal sacrifices, ancestor worship and possession by deities known as Orishas, which are ruled over by the supreme deity known as Olorun, according to ReligiousTolerance.org.
The ringleader of the operation is a Brazilian national, police said, who worked with associates to identify and recruit vulnerable youths in their home country, particularly those in difficult economic situations. The gang would then convince the youths to travel to Europe "under false pretences."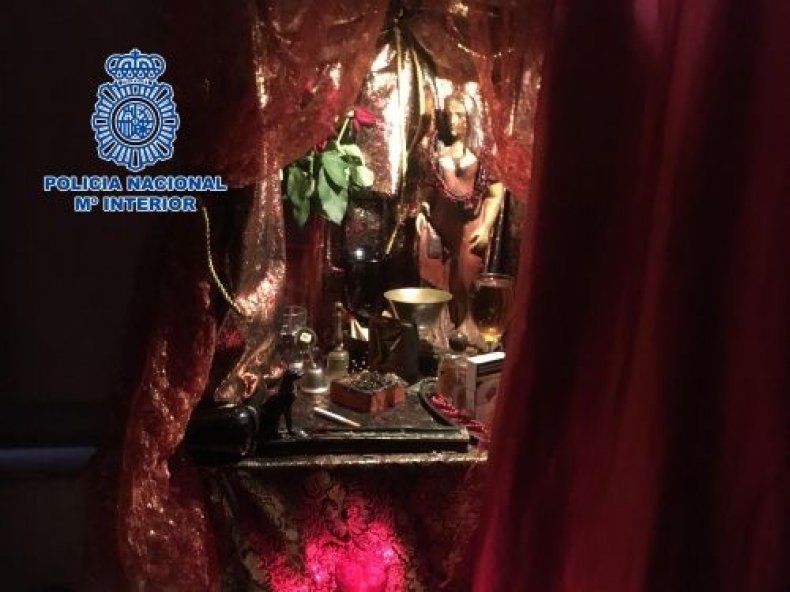 The authorities were tipped off to the enterprise by one of the victims, who was able to file a complaint at a police station in Murcia. They explained their passage to Spain had been arranged in exchange for taking on a large debt, which they were then forced to repay through prostitution.
Police launched an investigation to discover the extent of the trafficking ring and identify those controlling it. Then, in a series of raids in Murcia and four other towns and cities all along Spain's Mediterranean coast, thirteen people were detained in connection with the operation.
Those arrested are aged between 19 and 60, police said, and include Colombian, Brazilian, Peruvian, Spanish and Romanian nationals. Four of the suspects have been detained while the investigation is ongoing while the other nine have been released on bail.