U.S. Police Three Times More Likely to Use Force Against Left-Wing Protesters, Data Shows
Police in the United States are three times more likely to use force against left-wing protesters than right-wing protesters, data from a non-profit that monitors political violence has revealed.
Researchers at U.S. Crisis Monitor, a joint project between the Armed Conflict Location & Event Data Project (ACLED) and Princeton University, garnered data on police responses to more than 13,000 protests across the country since last April. The non-profit also monitors political unrest in Europe, the Middle East and Latin America.
The U.S. data, released this week, showed that police often responded with more force at Black Lives Matter protests compared with pro-Trump or other right-wing demonstrations.
Since April 2020, police force was used at about 4.7 percent of left-wing protests compared to 1.4 percent of right-wing protests, analysis of the data by The Guardian found.
Law enforcement used tear gas, rubber bullets, batons, and other force against demonstrators at 511 left-wing protests and 33 right-wing protests in that time period, the data showed.
Left-wing protesters were also found to be more likely to see a violent response from law enforcement, regardless of whether the protest was peaceful. However, a lower proportion of left-wing demonstrations were found to be peaceful than right-wing demonstrations, at 94 percent and 96 percent respectively.
Meanwhile, around 93 percent of all Black Lives Matter protests were found to be non-violent over the last 10 months. Newsweek has contacted the group for comment on the report.
"The data indicate that police respond much more aggressively to Black Lives Matter and left-wing protests compared to right-wing demonstrations," ACLED's director of research and innovation Dr Roudabeh Kishi told Newsweek.
"This is true even in response to left-wing demonstrations in which protesters do not engage in violent or destructive behavior—suggesting that law enforcement's approach to different types of demonstrations is not merely a response to demonstrator behavior."
However, ACLED said it doesn't record all instances of violence in its data, including violence with purely criminal intentions and violence that takes place privately.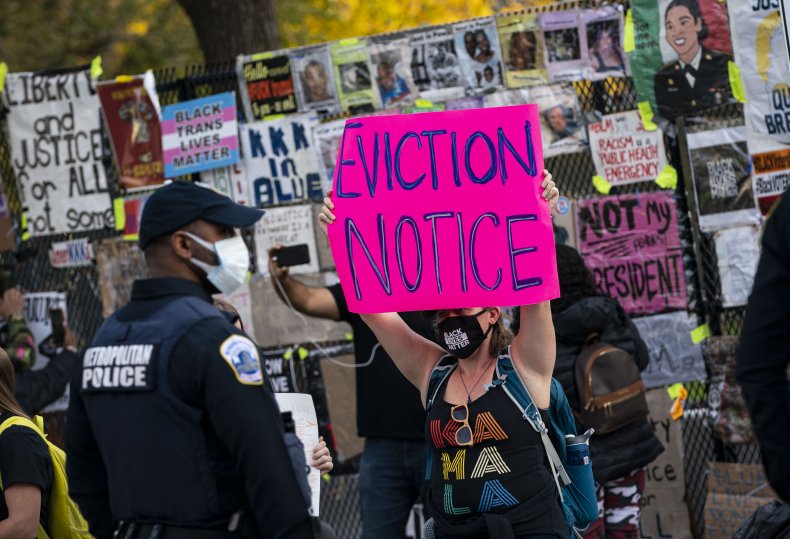 California was found to be the state where the most political violence and demonstration events occurred, with 2,489 events between April 1, 2020 and January 8, 2021. New York and Florida followed, with 1,386 and 1,071 events respectively.
As well as Black Lives Matter, other left-wing protests identified by the data include those in support of Democratic President-elect Joe Biden and the U.S. Labor movement. Right-wing rallies organised by the far-right group Proud Boys, Blue Lives Matter and conspiracy theorists QAnon were also included.
The release of the data comes days after the Capitol police were criticised for failing to act more quickly on the Trump supporters who stormed the Congress building on January 6, where lawmakers were certifying President-elect Joe Biden's victory. Five people died in the riots; four protesters and a police officer.
Members of the National Guard were not present in large numbers before the protest began. The Pentagon initially denied a request to send in troops, even after the building had been breached. The Capitol police also hadn't requested help from the Guard ahead of the violence.
Update 1/14/21, 10.20 a.m. ET: This article was updated with comments from ACLED's director of research and innovation Dr Roudabeh Kishi.