Authorities are offering no explanation for a mysterious fleet of drones that has been spotted searching the night skies over Colorado.
Local media reported Monday that at least 17 drones with an estimated wingspan of six feet have been seen hovering 200 to 300 feet over the skies of Yuma and Phillips counties. Local police don't know the origin of the aircraft, but do not believe they pose a threat.
"They do not seem to be malicious. They don't seem to be doing anything that would indicate criminal activity," said Phillips County Sheriff Thomas Elliott to The Denver Post. "They've been doing a grid search, a grid pattern. They fly one square and then they fly another square."
Authorities suspect the drones may have been deployed by an unknown private company. Mapping the area is one possible explanation for the activity. The number of drones and their size make it unlikely they are being flown by hobbyists.
The drones are said to operate between the hours of 7 and 10 p.m., having first been spotted around a week ago. Officials from the Federal Aviation Administration (FAA) and the U.S. Air Force both reportedly told police they could not account for the aircraft.
Although the presence of unidentified drones may be unsettling for some, there is no reason to assume they are breaking any laws or regulations. The FAA does not require drones to file flight plans unless they are traveling in restricted airspace and waivers can easily nullify other regulations that may govern the craft. At the state level, there appears to be no law they would be violating, according to the article.
"The way Colorado law is written, none of the statutes fit for harassment or trespassing," Undersheriff William Myers told the outlet. "Colorado hasn't gotten on board with identifying the airspace around your property as the actual premises, so we don't have anything we could charge."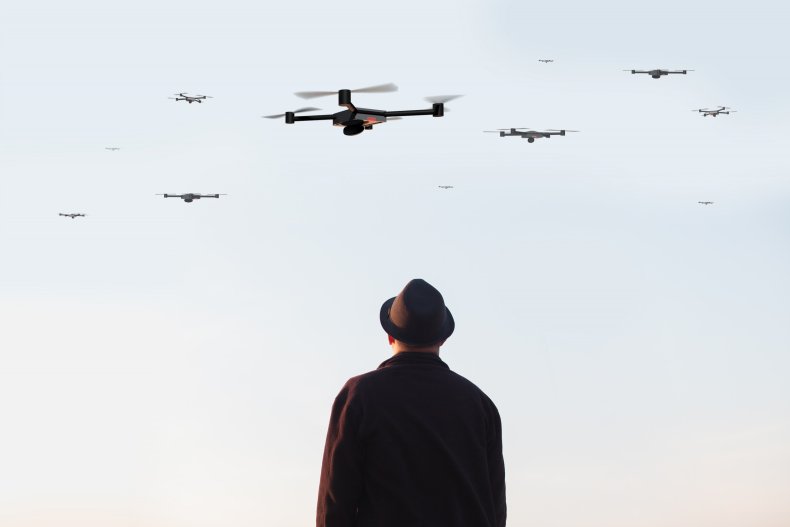 Although a criminal motive is not suspected to be behind the Colorado craft, drones have frequently been used to facilitate illegal activities in recent times. In November, a Georgia man was sentenced to four years for attempting to smuggle drugs into a prison using a drone.
Decreasing prices and increased availability of drones have made them an inexpensive and low-risk tool for prospective smugglers. Affordable units capable of carrying payloads are easily available to consumers.
Drones traveling near airports have also become a safety threat, interfering with air traffic control and in some cases shutting down entire facilities. In December 2018, drones flying near Gatwick Airport in London, England left thousands of international travelers stranded while flights were forced to be grounded and diverted.
Police hope that members of the public will help them figure out where the Colorado drones are coming from. They say they have already received plenty of reports informing them that the drones are in the air.
"We just want to know if one lands, if we can get our hands on it, or if they see someone operating them, that's what we're looking for now," Elliott told the paper. "We know they exist."