Police Unions in New York and Los Angeles Concerned About Safety If Department Budgets Are Drastically Cut
Police unions in New York and Los Angeles are warning that significant budget cuts to their departments, or defunding police in the U.S., could significantly endanger public safety, particularly—after protests nationwide erupted into riots and looting in response to the death of a black man while in police custody.
Last week, Los Angeles Mayor Eric Garcetti announced that he was backing the Los Angeles City Council's recommendation to cut the Los Angeles Police Department's proposed $1.86 billion budget by $150 million for the fiscal year 2020-2021, and redirecting those funds to areas of the black community.
"We need to make sure that black Americans see an end to the days of murder in broad daylight and of traffic stops simply because of the color of their skin," Garcetti said during a press briefing.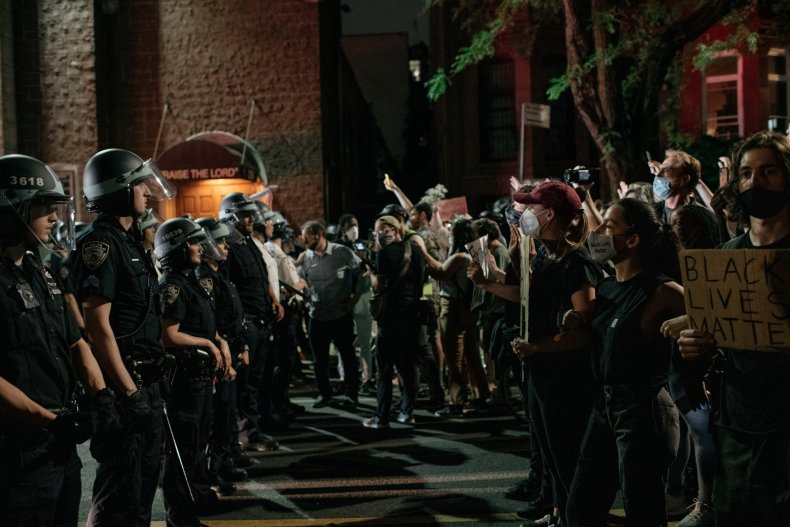 Dustin DeRollo, spokesperson for the Los Angeles Protective Leave — the LAPD's union — told Newsweek that the announcement by Garcetti and the Los Angeles City Council came a was a complete surprise to LAPD and the union.
"It was a shock to us and the nature of the rhetoric in the resolution was completely offensive and infuriating to the men and women of the LA Police Department who are trying to keep everyone safe and protect the community, especially in times like these," DeRollo said. "We felt that they [LAPD] deserved better than that."
DeRollo said city and the union has not discussed where the cuts will happen in LAPD's ranks. Union reps feared their could be layoffs. DeRollo said the department would become weakened when many decide to retire, and in the areas of recruiting when the department is unable to hire the estimated 500 new recruits a year to replace those who retire or resign.
He said response times to emergencies would be impacted, the ability to investigating property and violent crimes would be hindered, and teams that are specialized to investigate human trafficking would end as well as those special benevolent projects that help the homeless population.
"We look at cutting $150 million from the LAPD budget as a reckless political move reaction that is going to make these neighborhoods less safe," DeRollo said.
In a similar move, New York City Mayor Bill de Blasio announced last weekend that the New York City Police Department's massive $6 billion budget would be cut, with that funding shifted to youth initiatives and social services.
"We are committed to shifting resources to ensure that the focus is on our young people," de Blasio said at a news conference on Sunday. "We will only do it in a way that we are certain continues to ensure that this city will be safe."
The announcement of probable NYPD budget cuts — which still have not been clarified — arose during discussions with the New York City Council's Black, Latino and Asian Caucus, demands from local protesters and from pressure from de Blasio's own staff, the New York Daily News reported.
The NYPD, which has 36,000 sworn officers, hasn't seen a significant budget cut in nearly 20 years. But criminal justice reformers and the council's 21-member progressive caucus said they would recommend cutting $1 billion, or one-sixth, from the NYPD budget, the New York Post reported.
The proposed budgets to the LAPD and NYPD come amid nationwide civil unrest and an economy reeling from the global coronavirus pandemic. Police and law enforcement agencies have been under fire following the case of George Floyd, who died in police custody in Minneapolis on May 25.
Floyd's arrest was documented in a viral video where one of the officers who responded to a call about an alleged counterfeit $20 bill used a knee placed on Floyd's neck to pin the man to the ground. The officer, Derek Chauvin, remained in that position for nearly nine minutes, despite Floyd repeatedly telling officers he couldn't breathe and later appearing to lose consciousness.
Since Floyd's death, Chauvin and three other Minneapolis police officers were fired from the department and were arrested and charged in connection with Floyd's death.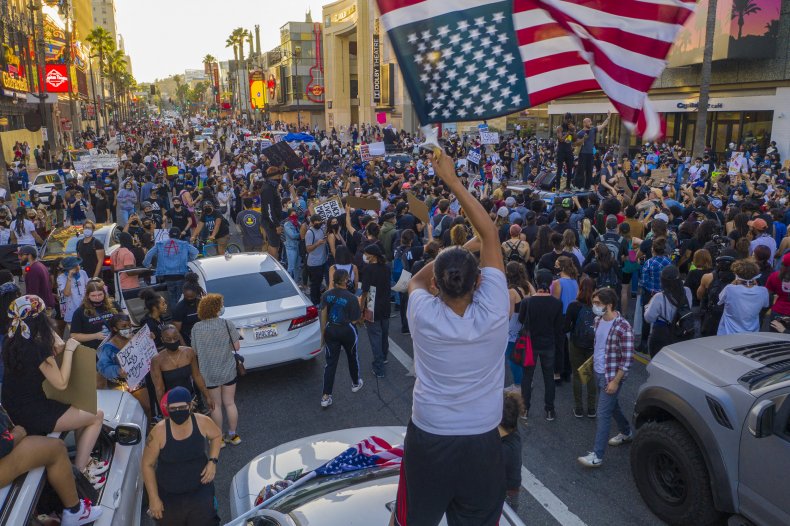 Like the LAPD and NYPD, law enforcement agencies in New York State are concerned about the proposed cuts to the budget announced by de Blasio. But they are just as worried about a slew of anti-cop bills they believe are being filed in the New York State Assembly and the New York State Senate, and will likely be passed before the session ends June 30.
During a press conference on Tuesday in front of members of at least 20 New York State police unions, Patrick Lynch, president of the NYPD's police union, said the leadership at NYPD, the mayor's office, and the state legislature have turned their backs on police.
"We, as professionals, are under assault," Lynch said."We went on the streets to do a job. We went out on the street during this violence because we knew we had to...then we found out there wasn't enough of us."
Lynch said state lawmakers and city leaders were not being transparent with the NYPD union, and instead planned to make cuts that would hinder police. The calls for reforming NYPD, Lynch added, were not justified because the NYPD was the most restrained department in the country.
"We have been reformed time and time again," he said. "We want to come to the table, but the legislature has not invited us to the table, so they really want reform? Do they really want compromise? That's not what's happening. What's happening is that the fever on the street has caught the fever of elected leaders, and they have walked away from us."
Newsweek has reached out to the NYPD and LAPD for comment.
Meanwhile, Minneapolis City Councilwoman Lisa Bender said on Sunday via her Twitter account that the place department would be defunded and disbanded, and replaced with a "new and transformative model of public safety."
Bender and nine other council members appeared at a rally in a city park and vowed to dismantle the police department. However, Minneapolis Mayor Jacob Frey said in a statement Sunday that while he believes the Minneapolis Police Department needs reform, he does not support defunding it.
In their own statement, the Major Cities Chiefs Association largely aligned with Frey, saying police agencies need to change how they interact with members of the black community and other communities of color.
"We need to hear what America is telling us right now, and we need to take bold and courageous action to change the narrative of our history as it relates to the disparate impact and outcomes that policing has had — and continues to have — on African Americans, people of color and the disenfranchised," Houston Police Chief Art Acevedo, who serves as MCCA president, said in a statement.
Acevedo, who attended George Floyd's funeral on Tuesday, said during an interview with Newsweek, that defunding and cutting police department budgets in the wake of these protests is never a wise move.
"That is just simply not the answer," Acevedo said.
Calling the move to defund police department to fund social programs "a false equivalent" to the problem, Acevedo spoke at length on Houston's cultural diversity, adding that police department leadership should always be thoughtful and deliberative when dealing with anyone in communities of color.
"Communities of color are the ones who call when they are being victimized," he said. "They don't want less policing, they want good policing."
Acevedo said relational policing is an effective policy that he has seen work, and he has incorporated into HPD, which involves meeting with and being involved in the communities they serve and treating everyone they make contact with, with dignity and respect.
"That first impression is the beginning of our relationship. That may be the only opportunity we have to leave and make an impression on that community member," he said. "Relational policing — community policing — too many chiefs talk about that they don't have enough people, when in fact it's not about the number of people you have. It's the mindset and the heart of the people you have and the way they conduct themselves each and every time they come in contact with anyone in the community."