Minneapolis police appeared to use chemical incapacitants on a group of demonstrators Tuesday protesting the death of George Floyd, a black man who died while being arrested Monday.
In a video posted to social media, an officer can be seen placing his knee on Floyd's neck as Floyd repeatedly informed the police on the scene that he could not breathe. An ambulance arrived and took Floyd to a local medical facility, where he was pronounced dead.
Minneapolis Mayor Jacob Frey apologized to Floyd's family and the black community, saying Tuesday that "being black in America should not be a death sentence."
"When you hear someone calling for help," Frey said, "you're supposed to help. This officer failed in the most basic, human sense."
The four officers in Floyd's death were released by the Minneapolis Police Department, a move Mayor Frey called "the right call."
Thousands of protesters converged upon the scene of Floyd's death, some carrying signs reading "I can't breathe," the words Floyd was heard to say as officers detained him Monday.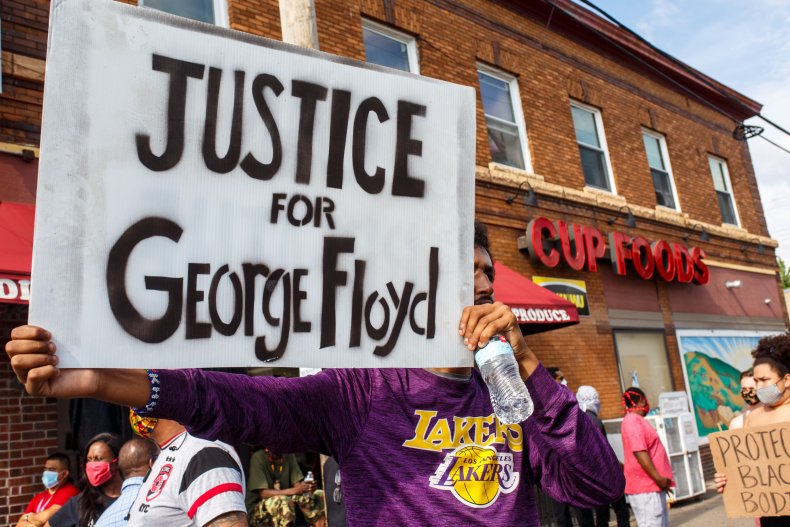 Police met the protesters with non-lethal offensive weapons. In a video posted on Twitter by @KeaonDousti, officers can be seen spraying demonstrators with something akin to pepper spray or mace. Some language in the video may be deemed offensive.
Reports from the scene also indicated that police used tear gas against the demonstrators.
Protesters threw objects, including water bottles, at police vehicles as part of the demonstration. Windows in the SUVs were broken. Demonstrators also allegedly caused property damage at the Minneapolis 3rd Police Precinct.
Officers intended to arrest Floyd under suspicion of forgery. Police say Floyd resisted arrest, causing officers to restrain him by placing a knee on his neck. Despite Floyd's protestations that he could not breathe, an officer in the video taken by a witness can be heard to say, "He's talking, so he's breathing."
Floyd's family is being represented by attorney Ben Crump, who is also representing the families of slain Georgia jogger Ahmaud Arbery and Kentucky EMT Breonna Taylor who was killed in her home by police officers.
"Firing these officers was a good first step on the road to justice for George Floyd," Crump said in a Tuesday statement, "but we need to make sure that the Mayor and the Police Chief fix the policies and training deficiencies that permitted this unlawful killing to occur." Crump also said Floyd's death "demonstrates a breakdown in training and police by the City."
Newsweek reached out to the office of Mayor Frey for comment. This story will be updated with any response.