Footage of a bride and groom being questioned by police in Florida after their wedding guests fell ill from allegedly consuming cannabis-laced food has been released by the authorities.
Danya Glenny, 42, from Longwood, and Joycelyn Bryant, 31, of Joycelyn's Southern Kitchen, from Orlando, were charged with tampering, negligence and delivery of marijuana.
On the evening of Saturday, February 19, deputies from the Seminole County Sheriff's Office were called out to The Springs Clubhouse in Longwood, Florida, when several guests at Glenny's wedding reception contacted the emergency services after falling ill.
According to a report from the Seminole County Sheriff's Office, the investigation was sparked by a male guest who called 911 to request an ambulance as he "was feeling weird." The man went on to inform the 911 operator he felt like he "had drugs inside him."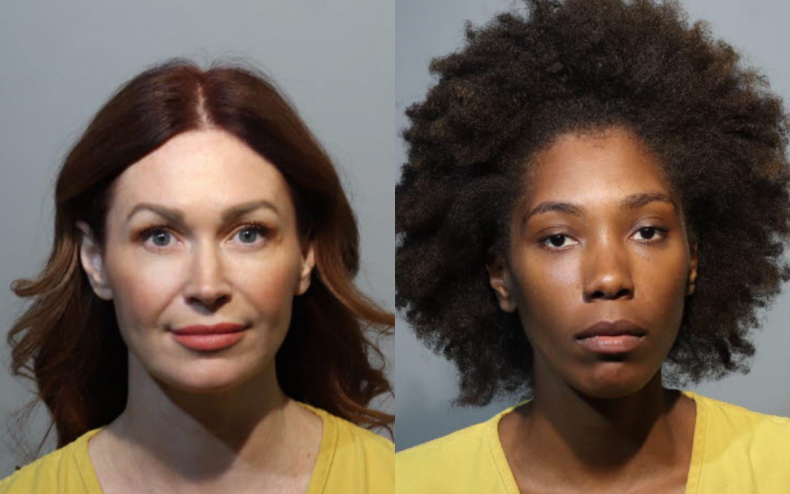 According to the sheriff's office, several other guests from the wedding party of up to 50 people reported symptoms which ranged from "stomach pains and vomiting" to a general feeling of being "high/stoned."
One guest was also quoted in the arrest affidavit as telling officers he "felt tingly, his heart started to race, and [he] was having crazy thoughts," while a female guest said "her mind was playing strange things in her head."
Glenny was charged along with Bryant, who catered the event, following an investigation by police. Now the Seminole County Sheriff's Office has released bodycam video footage from the night of the wedding along with excerpts from the 911 calls made by distressed guests.
In the video, an unidentified guest is shown being taken away on a stretcher while a sheriff's deputy is seen telling one member of catering staff "don't throw anything away" before instructing another to take food and other items back inside the venue.
One person, most likely a guest, is heard telling officers "We all have been affected somehow by what was put in the food" before pointing an officer in the direction of the bride and groom. The individual is also advised by the deputy not to drive in his current condition.
Glenny and the groom then appear on the video, where they are quizzed by deputies on whether they were aware that the food served might have contained cannabis. A deputy asks the couple: "Supposedly, your food had cannabis inside of it when your guests ate it. Did you authorize that?"
"I have no idea," the groom replies. When the deputy seeks further clarification over whether the groom "authorized" the use of cannabis in the food he responds: "no sir."
Glenny can be seen next to him watching silently. When the officer explains to the groom that several people have reported feeling sick, he tells him: "I just walked our daughter home and came back, and I saw all these trucks here and I was like 'What's going on?'"
The deputy then explains that some guests have claimed the food may have been laced with marijuana. Glenny remains silent while the groom expresses surprise, explaining that he suspects some guests have used marijuana before and may have brought their own edibles.
The deputy responds: "If people have their own personal [cannabis products] and they're ingesting it, that's one thing, but if somebody put it in the food for everybody, including minors or whatever the case might be, then that's where the problem kind of lies."
The footage was released alongside audio from the 911 calls made, including the one that sparked the investigation. One the audio, a man can be heard telling an operator: "I feel like there's some kind of drugs in me or something and I don't know what's happening."
"I've had a few drinks of alcohol but I've never felt like this before," he adds. "I feel like I need medical attention, please."
Several guests were transported to the hospital following the incident.
According to arrest warrant affidavits, one of the guests, Miranda Cady, told deputies that before eating anything she had asked Bryant if there was marijuana in the food.
Bryant allegedly "giggled and shook her head yes." When asked again by Cady if "this was for real" Bryant is alleged to have once again said "yes." Cady went on to eat at the wedding noting that "if she believed that there had been marijuana in the food, she would not have eaten it."
She said that when she realized she had consumed marijuana, she allegedly confronted Glenny and asked her if marijuana had been put in the olive oil served to guests.
Glenny allegedly "shook her head yes and acted excited." Glenny and Bryant turned themselves in to the Seminole County Sheriff's Office jail facility on Monday April 18, on the active warrants, and have since bonded out.
They are due to be arraigned on June 7. The Seminole County Sheriff's Office has declined to make any further comment at this time.
Newsweek has contacted Cady for comment.