Police Visited Brian Laundrie's Home Day Before Gabby Petito Was Reported Missing
Police were called to Brian Laundrie's parents' home twice on the day before Gabby Petito was reported missing, according to North Port Police Department records obtained by ABC News.
The records showed that police officers responded to the North Port, Florida, home two separate times on September 10 for "public service" calls. Both reports were marked by officers as "problem settled," according to the news site.
Police were also called to the home three more times on September 11, the day the late Petito was reported missing by her parents.
The first two calls made on September 11 were recorded as follow-ups. "Problem settled" was marked for the first of those two calls, while "no police action needed" was listed for the second.
The third call made on September 11 was an "agency assist" call, according to the police records, which also show that a report was submitted afterward. The records were partially redacted and showed no further details on the calls of service, but ABC News noted that police said the calls were not 911 calls.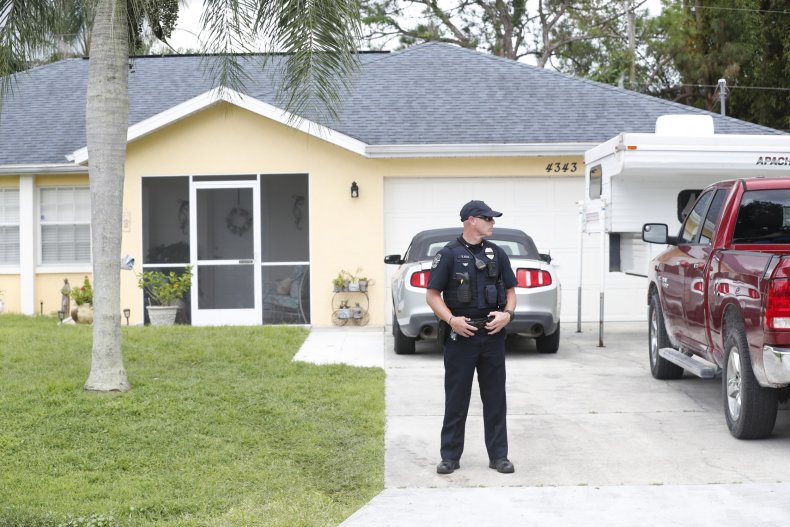 There were at least 46 police calls or response requests related to the residence made between September 10-27, with most of those coming in the days after 22-year-old Petito was reported missing, according to police records obtained by Fox News Digital.
North Port police did not provide logs for calls made before the afternoon of September 10, according to the outlet. Fox noted that the police department would only provide records through September 27 and not through the requested date of September 29.
The most recent record provided by police to Fox was for about 5:10 p.m. on September 27. Earlier calls were made the same day at 8:06 a.m., 8:28 a.m., 1:29 p.m., 2:45 p.m. and 4:13 p.m.
The reasons given for the 46 calls were listed as "Disturbance," "Follow Up/Investigation," "Patrol Check" and "Public Service."
Petito's mother, Nichole Schmidt, filed a missing persons' report with the Suffolk County Police Department in New York on September 11 after not having heard from Petito for several days. Officials confirmed on September 21 that a body found near Grand Teton National Park in Wyoming two days earlier was Petito's and that her manner of death was homicide, according to an initial coroner's report.
Petito had been on a cross-country road trip with her fiancé, Brian Laundrie in a white Ford Transit that had been converted into a camper van. Laundrie, 23, returned to his family's North Port home on September 1 in the van without Petito, according to authorities.
Laundrie was named a person of interest in Petito's disappearance, and on September 23, the FBI issued a warrant for his arrest for bank card fraud. The FBI is still searching for Laundrie; his parents told authorities they last saw him on September 17 when he told them he was going to a nearby nature reserve.