Police Warn Black Protester Not to Return to Santa Monica, Where He Lives
Police in Santa Monica, California reportedly warned a black protester to never return to his home of more than 40 years after arresting him for breaking curfew during a protest against racial injustice and police brutality.
David Brown, 59, was arrested during a protest against the death of George Floyd on May 31 and driven away from the city, where he was told never to return or face another arrest, according to multiple reports. Brown and several other protesters had been arrested and held before being driven to a gas station far from the sight of the demonstration and told to never return to Santa Monica.
"I said, 'Wait a minute, I live in Santa Monica.' 'If you come back you will be arrested.' 'But it's where I live!'" Brown later told KNSD.
Although there were said to be scenes of looting only blocks away, Brown and others were detained while taking part in a peaceful protest. The longtime resident said police provided conflicting information regarding the curfew, prevented him and others from leaving before it had passed. He said he was surprised by the physical forcefulness of the police.
"They snatched me up and grabbed me by my arm quite forcefully. Snatched me up and turned me around and I was like, 'Are you serious?'" Brown said.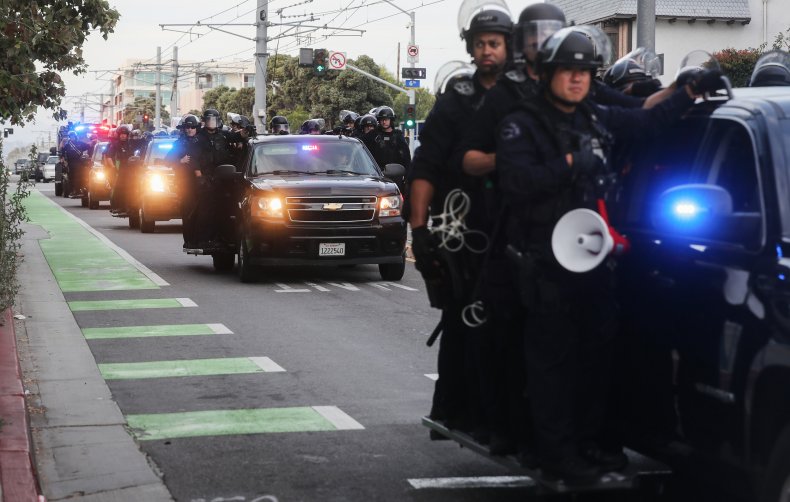 A video posted to Twitter by Buzzfeed reporter Brianna Sacks, who first reported Brown's arrest, shows him being taken away with his hands in zip ties. Other videos show several other demonstrators restrained in a similar manner. Sacks was also held with her hand placed in zip ties, but later released after identifying herself as a journalist.
After police dropped off the detained demonstrators on the outskirts of town and cautioned them to stay out of Santa Monica, Brown eventually found someone to drive him home for $20. He said he felt he had to sneak back into his rent-stabilized apartment, where he has lived for most of his life, out of fear of being arrested again.
Predominantly white Santa Monica was one of several affluent areas in the vicinity of Los Angeles that were deliberately targeted by protesters, along with areas such as West Hollywood, Beverly Hills and the Fairfax district. Brown said that marked a change from past protests against racial injustice in Southern California, including some that turned violent.
"[Protesters decided] 'you know what, we're going to the white neighborhoods and tear up their neighborhoods. We're going to Bloomingdales, Beverly Hills, the Grove, all those places,' and that's exactly what they did," Brown told Buzzfeed.
Newsweek reached out to the Santa Monica Police Department but did not receive a response in time for publication.