Police Warn Kids to Stop Pointing What Look Like Real Guns at People in 'Dangerous' Prank
Police in Roxboro, North Carolina, are warning residents about a popular but "dangerous" prank involving toy guns that began as a trend on TikTok, and there are fears that "tragic consequences" could result.
On Monday, the Roxboro Police Department posted an announcement about the prank on Facebook. "We are warning those who are playing the 'Gun Prank War' that pointing what appears to be a gun at someone is a crime and can result in arrest," the department wrote.
In recent days, officers have learned of several incidents in which "young people" in vehicles have reportedly been pointing what look like guns at passing drivers. Two of the incidents were reported to police through 911 calls authorities received on July 20 and Monday evening, according to Roxboro Police Chief David Hess.
The occupants of one of those two vehicles confirmed the report when officers tracked them down, Hess told Newsweek.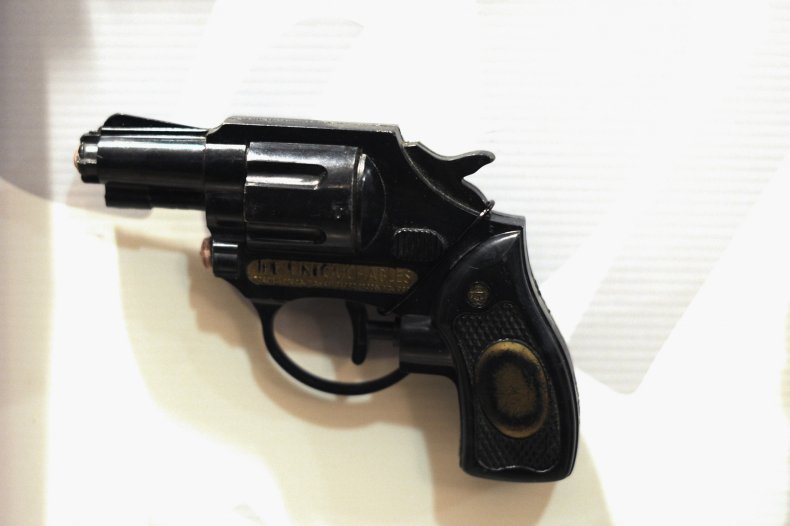 "We have stopped several cars to find young people who admit to playing this game," the department's Facebook post said. "The young people are pointing weapons that appear to be real guns."
Hess said the objects used by those participating in the prank are not real weapons but can look and sound like them.
"We learned this game began from a trend started on TikTok, where teens are pointing devices that shoot water pellets and mimic the sound of gunfire," Hess said. "Some of them are multicolored, but in the evening hours, which is the time we've investigated these complaints, it's difficult, if not impossible, for a reasonable person to see that it's a toy gun."
Hess said no arrests have been made in connection with the prank war so far. He added that the department's Facebook post was meant to serve as an "educational opportunity in hopes those responsible would cease the dangerous game."
In a Tuesday interview with WRAL-TV, Hess said he is worried about what could happen if a toy gun used as part of this prank war is believed to be real by those concerned for their safety.
"We fear the same thing parents fear, is that somebody might take this game to be a real-life threat and then it turns into something tragic," Hess told the station. "We want to educate the community that there is a right and a wrong way to go about playing with sophisticated water gun toys. But pointing them at people and displaying them in the public is not the right way to go about it, and it could constitute a crime."
The department's Facebook post reiterated Hess' comments discouraging residents from participating in the "potentially deadly" prank.
"There is nothing funny about this game," the post said. "We urge those playing to stop immediately before you are arrested or prank the wrong person ending in tragic consequences."