Police Warn 'Video Games Are Not Real' After Man Allegedly Tries to Steal Jet at Airport
A Colorado man has been arrested on suspicion of trying to steal a jet and fly it to Hawaii.
Sterlin Antonio Love, 31, is facing a number of charges following an incident at the Centennial Airport on July 14, reported WKRN.
Love is accused of jumping the fence and running up to the Gulfstream jet taxiing on the runway in an attempt to steal it.
According to the Douglas County Sheriff's Office, Love tried to board the plane and fly it to Hawaii.
"Today officially begins a series that we'd like to call 'Note to Self,'' the sheriff's office wrote on Facebook on July 16.
"This note is based on an actual incident (this week) where a suspect male breached the secure perimeter to the runway at Centennial Airport in an attempt to steal a jet and fly to Hawaii.
"We've all been at the point where we needed a vacation, but this took it a little far... note to self... video games are not real... stealing a jet will not go well."
The Douglas County Sheriff's Office posted images of the suspect approaching the plane on the runway on social media.
A Denver Police Department helicopter, which also happened to be at the airport at the time, is also pictured responding to the scene.
Love was taken into custody and is now facing charges of first-degree aggravated motor vehicle theft and misdemeanor second-degree criminal trespassing.
The Douglas County Sheriff's Office has been contacted for an update.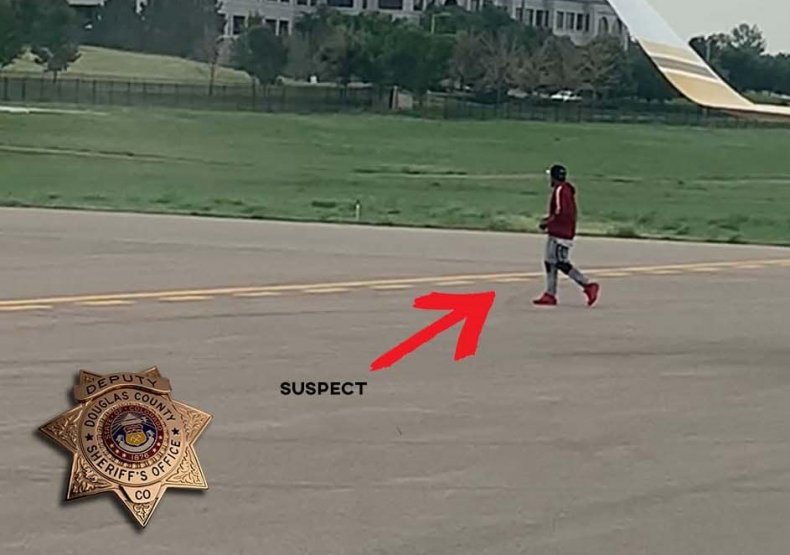 In 2019, a man from Arkansas pleaded guilty to attempting to steal a commercial flight so he could fly to Chicago to see a rap concert.
Zemarcuis Scott, of Texarkana, was sentenced to five years' probation in January 2019 after admitting attempted theft of property and commercial burglary.
The charges relate to an incident in July 2018 after Scott was found in the cockpit of an American Eagle twin-engine jet at Texarkana Regional Airport.
Officials said at the time that Scott was hoping to fly the plane to Chicago to see rapper Famous Dex perform.
Despite having no training as a pilot, Scott is reported to have told investigators that flying the aircraft would involve little more than pushing buttons and pulling levers.
Scott said he had thought about stealing a plane for nearly a month and had been watching the small plane for a few hours before deciding to run into the cockpit.
A Southwest Arkansas Counseling and Mental Health Center psychologist ruled that Scott was mentally competent to stand trial over the charges.