Police Knew Nashville Bomber Warner Was Making Bombs in 2019: Report
Nashville bombing suspect Anthony Quinn Warner had been reported to the Metro Nashville Police Department (MNPD) for allegedly building explosive devices more than a year ago, according to police records.
Warner was killed in the Friday explosion which damaged the AT&T building in downtown Nashville, injured three people and caused communications outages across several states. More than 40 businesses were damaged in the blast. No other casualties were reported.
Authorities were first alerted to Warner's bomb-making activities in August 2019 after Nashville police responded to a call from Raymond Throckmorton, Warner's attorney.
Throckmorton expressed concern about comments made by Warner's girlfriend who, according to police documents, said that Warner "was building bombs in the RV trailer at his residence."
Police also spoke to Throckmorton, who said Warner "frequently talks about the military and bomb making. [Throckmorton] stated that he believes that the suspect knows what he is doing and is capable of making a bomb."
No contact was reported between the police and Warner, although the police did knock on the door. The report states that the RV was visible in the fenced back yard of the residence, but the location had "several security cameras and wires attached to an alarm sign on the front door."
In a statement given to The Tennessean on Tuesday, MNPD spokesman Don Aaron said that police "saw no evidence of a crime and had no authority to enter his home or fenced property." Additionally, Aaron said the Federal Bureau of Investigation (FBI) reported they did not possess any records on Warner.
Newsweek reached out to the FBI for further comment.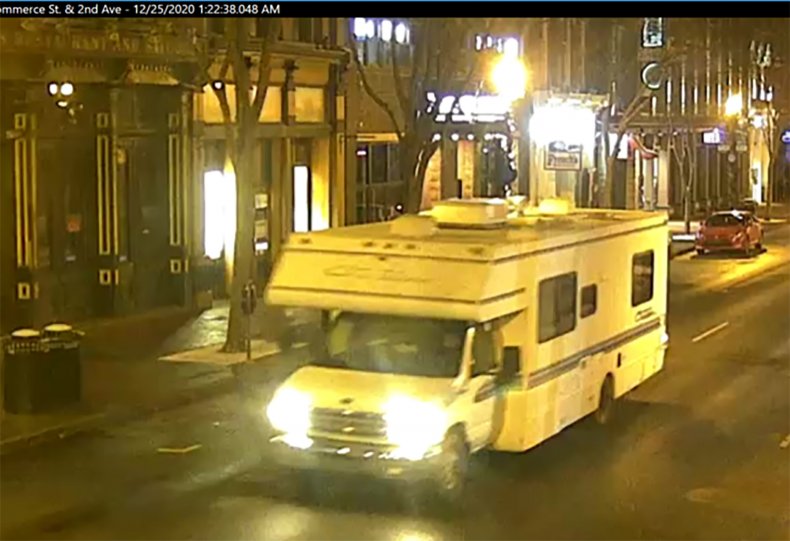 On Sunday, police were alerted to reports of gunshots in downtown Nashville. Upon arrival, they discovered a white recreational vehicle parked in front of the AT&T building. According to first responders, a recording could be heard playing from the vehicle, warning that the RV would explode in 15 minutes.
"There were also cameras on the RV, like surveillance cameras, above the mirror," said Nashville officer James Wells during a Sunday press conference. "It felt like whoever was behind it was watching us."
Human remains found at the site of the blast were identified through DNA matching by authorities as Warner's. No official motive for the bombing has been released.
Authorities believe Warner acted alone in the explosion.
"[Warner] is either a criminal mastermind or a dude who flew completely under the radar," one law enforcement officer told Newsweek on Sunday. "He sounds like an extremely sad guy who wanted to die in an elaborate fashion on Christmas Day."
The official requested anonymity because they were not authorized to speak about the case on the record.
During a Monday news conference, President-elect Joe Biden called the bombing a "reminder of the destructive power an individual or a small group can muster and the need for continuing vigilance across the board."