Police Won't Release Names of Officers Involved in Walter Wallace Shooting Until 'Threat Assessment' Conducted
The Philadelphia Police Department will not immediately release the names of officers involved in the shooting that led to 27-year-old Walter Wallace Jr.'s death on Monday, according to Commissioner Danielle Outlaw.
Addressing the police shooting and the subsequent mass protests across Philadelphia, Outlaw said a "threat assessment" must be conducted before the officers' names are shared with the public. The police commissioner spoke alongside Philadelphia Mayor Jim Kenney and other city officials during a Tuesday afternoon news conference, where they discussed Wallace's death and the expectation of continued unrest among residents.
In their comments about the altercation that preceded his shooting, police allege that Wallace approached them while carrying a knife. In a video of the shooting posted to Twitter, officers could be heard asking Wallace to put down his weapon before firing multiple gunshots in his direction. Wallace was transferred to Penn Presbyterian Medical Center, where he was pronounced dead.
"There are many questions that demand answers. Residents have my assurance that those questions will be fully addressed by the investigation," Outlaw said Tuesday, referring to the police department's investigation into Wallace's death, led by its officer-involved shooting team.
"We are also evaluating what other important information will be made public as the investigation unfolds, as well as our timeline for doing so," the commissioner said. "First, we will be completing a threat assessment and determining if and when we can release the officers' names. We know that the public deserves this information. As a matter of department policy, we plan to release it as long as it does not put the officers' safety at risk."
Outlaw noted that the police are examining "other evidence" that can be shared publicly, "as long as it does not undermine the integrity of the ongoing investigation."
In a statement sent to Newsweek on Tuesday, Sergeant Eric Gripp, a spokesperson from the Philadelphia Police Department, said investigators are reviewing body camera footage recorded during Monday's shooting.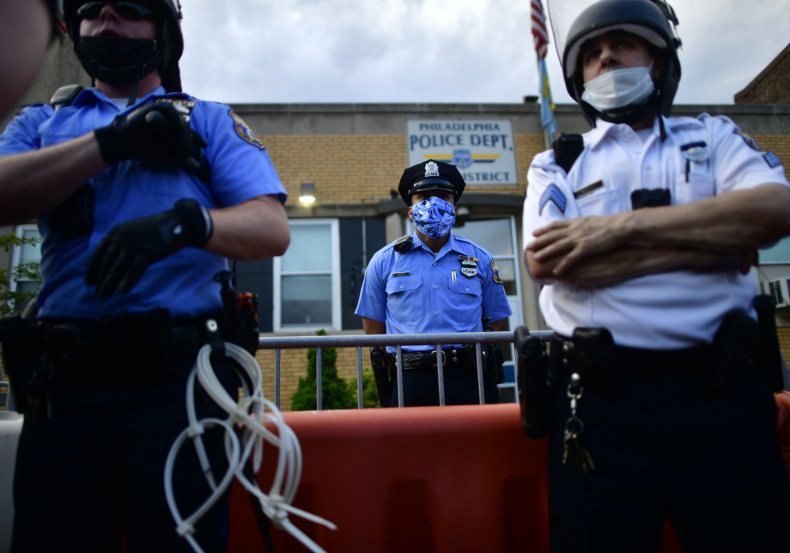 Demonstrators quickly gathered to protest after the news of Wallace's death broke. Additional videos shared to social media showed several instances where rallies became aggressive and violent. Some individuals looted businesses, while others threw objects at police officers.
One police vehicle was set on fire, and 30 officers suffered injuries that required hospitalization, according to the police. More than two dozen people were arrested, many of them on looting charges. On Tuesday, Outlaw acknowledged a distinction between individuals who "came together to peacefully protest" and criminal activity that took place during demonstrations.