Polio Has Not Returned to Venezuela, WHO Says
Polio has not returned to Venezuela, according to the World Health Organization (WHO), despite reports that a case of the virus had been identifed as the country reels from an economic and political crisis.
An arm of the WHO had suggested that a child may have contracted the virus, which was eradicated from Venezuela more than 30 years ago, but the world health body has since revealed that neither wild nor vaccine-derived poliovirus was responsible for the acute flaccid paralysis (AFP) symptoms originally reported, the Pan American Health Organization (PAHO) said.
Polio is one of many conditions that can lead to AFP, which is a sudden onset of weakness or loss of the ability to move any part of the body in a child younger than 15.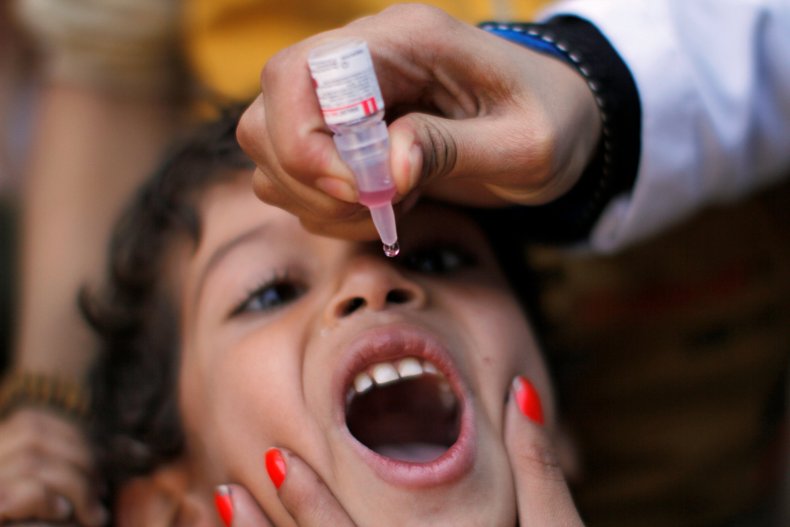 A Sabin type 3 poliovirus was isolated from stool samples of the child. But as PAHO explained, this can be expected in children and communities immunized with bivalent oral polio vaccine. This vaccine contains weakened type 1 and type 3 Sabin strains of the virus.
The June 8 PAHO notification said the Sabin type 3 poliovirus had been detected in a young child in the remote Orinoco delta in Venezuela's Delta Amacuro state. The community in question was "an under-immunized indigenous community," PAHO said.
The child in question had not been vaccinated, but others in the same community had. A June 15 update on the case suggested the infection may have been spread from these other children.
Polio causes temporary or permanent blindness and paralysis in one out of every 100 infected, and can be deadly. There is no cure once it is contracted, making vaccination all the more important. Polio was eradicated in Venezuela in 1989.
The economic crisis racking the country is still causing dangerous gaps in vaccine coverage and medical supply availability. According to CodeVida, an organization monitoring medicine shortages, roughly 90 percent of medicines and essential vaccines are not currently available in Venezuela.
A PAHO statement said it is "critical that countries maintain high immunity to polio in all communities." This requires constant surveillance to minimize the risk and consequences of any eventual poliovirus re-introduction or re-emergence, the organization said.
The economic turmoil—which is preventing the government importing vital foodstuffs, fuel and medicine—is severely impacting local health officials. It took more than a month for PAHO to receive notification in this case though regulations dictate this should be done within 24 hours.
President Nicolas Maduro's government launched a new vaccination campaign on April 6 to fight 14 different diseases. However, critics say there are simply not enough vaccines to meet demand. The country is also struggling with outbreaks of measles and malaria.