Polio-Related Murders Kill More Than the Disease Itself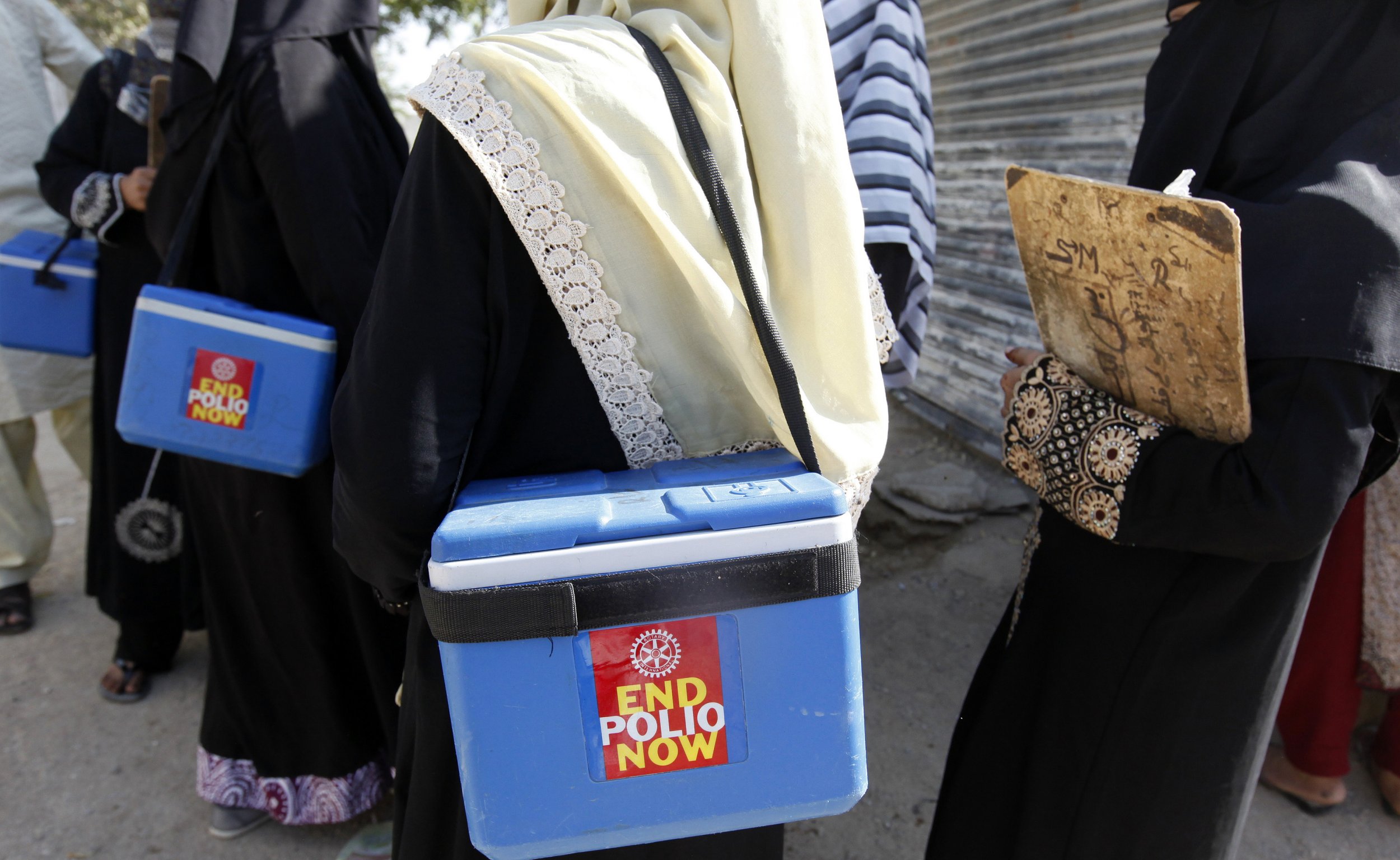 In the last year, more health-care workers and volunteers have been killed trying to prevent the spread of polio, than the number of people who have died from the disease itself according to data from the WHO and estimates from the Polio Global Eradication Initiative.
Three female polio vaccinators, along with their driver, became the latest victims earlier this week after militants opened fire on their vehicle in Quetta, Pakistan.
Pakistan, Afghanistan and Nigeria are the three remaining polio-endemic countries and over the past year there have been over 80 polio-related killings in Pakistan, and nine in Nigeria, meaning a total of 89 overall.
Whilst it is difficult to determine the exact number of deaths, the Polio Eradication Initiative estimate that between 15 and 30 people have died from the disease this year, significantly fewer than the number of people murdered whilst trying to prevent the spread of the disease.
In Pakistan, the attacks, which are undermining government and international efforts to eradicate the virus, are widely believed to have been carried out by Taliban militants who say that the campaign is a cover for western spies or an attempt by health workers to sterilize children.
Attacks on polio vaccination teams in Pakistan have become increasingly common ever since the Pakistani Taliban leadership began declaring fatwas against the vaccination progammes, and in particular the female health-care workers helping to carry them out.
The campaign to prevent the spread of the disease has continued despite this opposition, but in June 2012 it suffered a serious setback when radical Islamic clerics and Taliban leaders issued a fresh fatwa. This time, the reason for the religious edict had a political basis, banning polio workers from giving out vaccinations in Waziristan, so long as the US continued its campaign of drone strikes in the region.
On June 16th a fatwa pamphlet, made by key Taliban leader Gul Bahadur, was distributed in Miranshah, the capital of North Waziristan, threatening anyone who attempted to carry out polio vaccinations in the region. "We announce a ban on polio vaccination campaign from today," the pamphlet said. "Anybody who disrespects this order will not have the right to complain about any loss or harm." According to the pamphlet, the drone attacks caused conditions worse than those of polio.
Their opposition was fuelled further in July 2012 when it was discovered that the CIA had recruited now-imprisoned Pakistani doctor, Shakil Afridi to help them find al-Qaeda's former leader Osama bin Laden, by establishing a fake vaccination programme in the city of Abbottabad in a plan to obtain DNA samples from the children living near Osama bin Laden.
Speaking to Pakistani newspaper Dawn, Taliban spokesman Ehsanullah Ehsan, said: "If they can convince us that these polio drops are Islamic and the spy agencies are not using it to kill our fighters, we would have no objection to any vaccination drive which is in the public interest."
Read next: Newsweek's in-depth report on the deadly battle to eradicate the last 1% of polio
But he also claimed that the polio eradication campaign was part of a "conspiracy of Jews and Christians to make Muslims impotent and stunt the growth of Muslims."
One of the most deadly attacks occurred in mid-December 2012, when Pakistani Taliban militants carried out a string of attacks attacks in Karachi, Peshawar, Charsadda and Nowshera, killing at least nine anti-polio health workers. Two of these were United Nations workers, leading the UN to suspend its campaign in Pakistan.
Attacks continued throughout 2013, including a major assault on a medical distribution camp in the Suleman Khel area in Peshawar, the provincial capital of Pakistan, where at least seven people, including four security personnel were killed.
Whilst most of the polio-related attacks have been in Pakistan, in February 2013 nine female polio vaccinators were killed in two shootings just 30 minutes apart at health centres in northern Nigeria. According to a BBC report, a controversial Islamic religious leader spoke out just days later, claiming that polio was caused by contaminated medicine.
In 2014, there has been an increase in assaults on anti-polio health workers and their support staff, with three incidents occurring so far, killing at least 24 people.
The most recent attack occurred on Wednesday in which three female polio workers and their driver were shot dead by unidentified gunmen in the city of Quetta, Pakistan.
According to police, the women were on their way to meet a police escort when armed men opened fire at the team, killing all four. The killers managed to escape without being identified.
The women were working on behalf of a polio vaccination campaign launched earlier this month in 11 districts of Balochstan which has so far delivered vaccines to 238,000 children under five.
The Lady Health Workers association, a group helping to carry out the campaign, have said that they will boycott the campaign until further security is provided.
It is thought that the anti-polio immunisation campaigns being waged in these Taliban-controlled areas in North and South Waziristan are responsible for the resurgence of the disease in Pakistan and it's spread to conflict-ridden Syria.
In response, in late 2013 WHO and UNICEF launched a polio vaccination campaign for 23 million children in the Middle East to try to curb its spread even further.