Polish Official Lays Out Condition for Ukraine Joining EU
In order for Ukraine to secure European Union membership in a few years, it must win the ongoing war against Russia, a Polish official said in an interview on Sunday.
Speaking to the Polish television channel TVP Info, Pawel Jablonski, deputy head of Poland's Ministry of Foreign Affairs, discussed the upcoming EU-Ukraine summit in the Ukrainian capital of Kyiv on Friday. Jablonski stressed the importance of the summit, saying that "the root of Russian aggression is the desire to block Ukraine's integration with Europe."
"The Ukraine-EU summit shows that this open path to membership...is something real. These are not just slogans, empty slogans, but a real will to cooperate. We really want Ukraine to become a member of the European Union in a few years. This is real, if only we allow Ukraine to win this war," he said, according to the online Ukrainian newspaper Ukrainska Pravda.
Ukraine applied for EU membership days after Russia invaded on February 24, 2022, and was granted candidate status in June 2022. Candidate status is a needed step in potentially securing full admission into the 27-country bloc.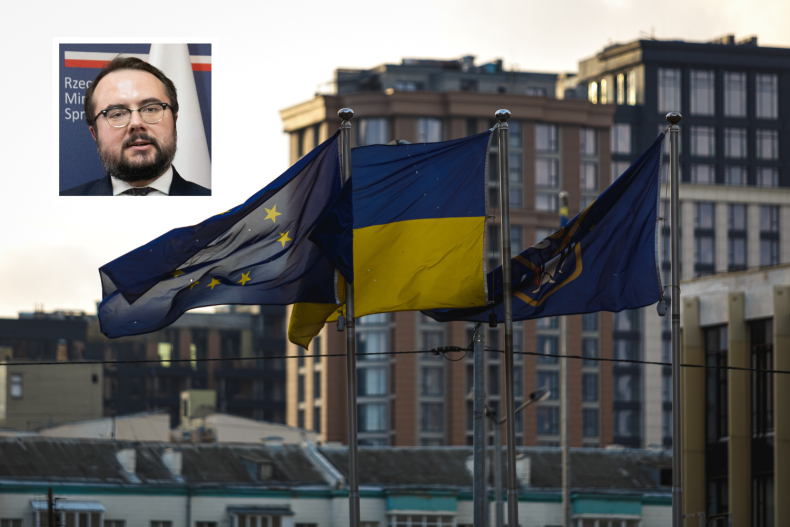 Ukraine has taken several steps to implement reforms the EU requires for eventual accession, which included targeting corruption and fixing its judicial system, according to the BBC.
Last week, several high-profile Ukrainian officials resigned as part of the country's anti-corruption efforts. And in December 2022, Ukraine's parliament announced that it had passed all legislation sought by the European Union ahead of beginning discussions on joining the bloc, Reuters reported.
Jablonski credited Ukraine in the TVP Info interview on Sunday for demonstrating how it wants to develop, according to Ukrainska Pravda.
"It [Ukraine] says: We want to be closer to Europe, we want to belong to the European Union, we want to belong to NATO," he said.
In a Politico interview published Monday, Ukrainian Prime Minister Denys Shmyhal spoke of a "very ambitious plan" to join the EU within the next two years. He also said that Ukraine expects to reach the "pre-entry stage of negotiations" in 2023.
But it remains unclear if such a speedy timeline is possible for a historically long process, even for a country that has been embroiled in war for nearly a year now.
French President Emmanuel Macron said last year that Ukraine's potential EU admission could take "several decades." There are other countries that received candidate status years before Ukraine, such as Montenegro and Serbia, but have yet to obtain actual membership.
Turkey, which was granted candidate status in 1999, is perhaps the most extreme of these examples.
Newsweek reached out to Ukraine's Foreign Ministry for comment.